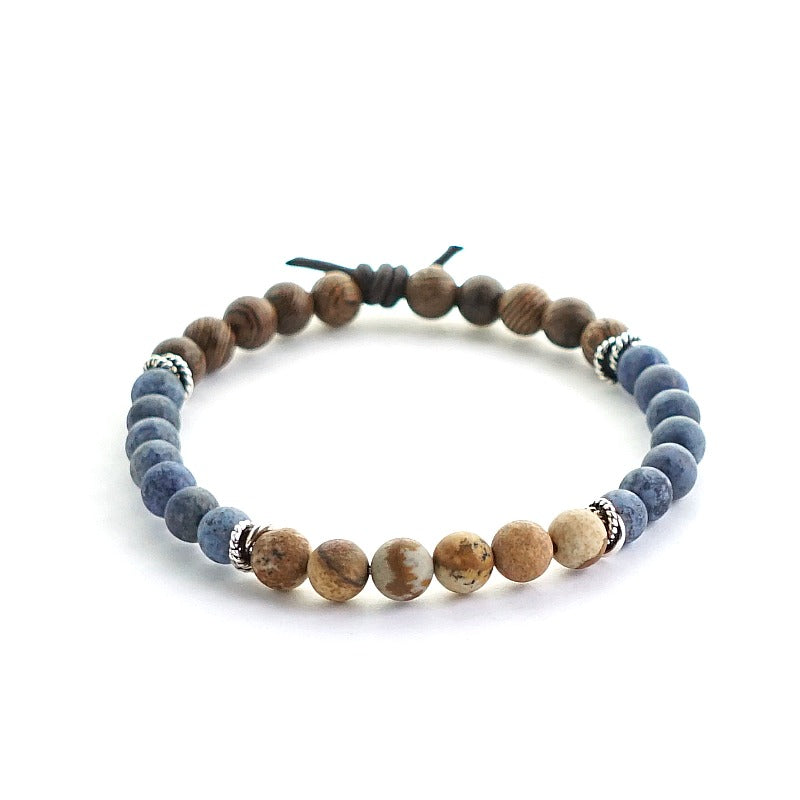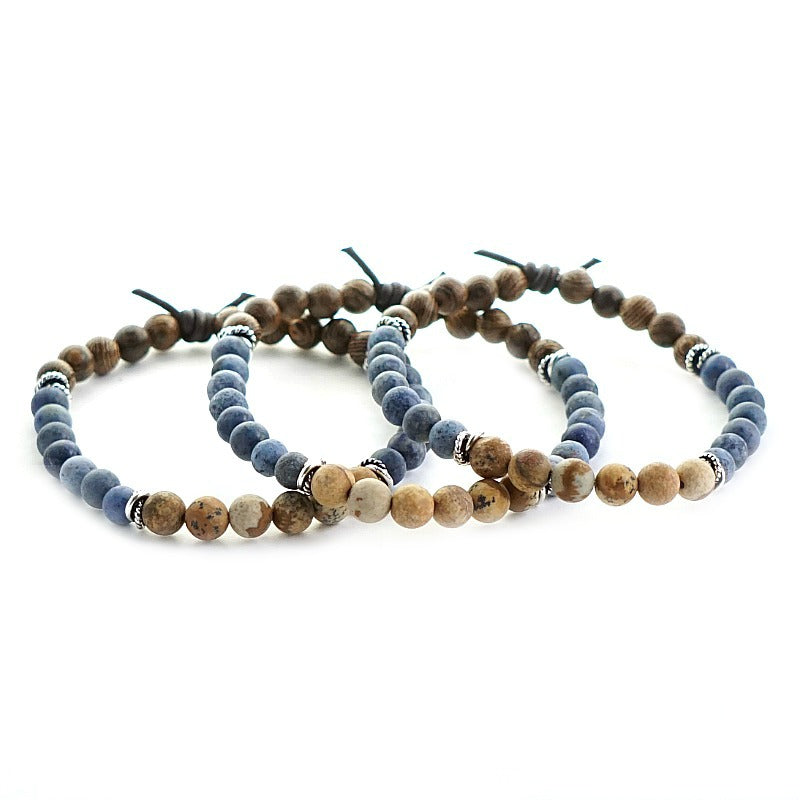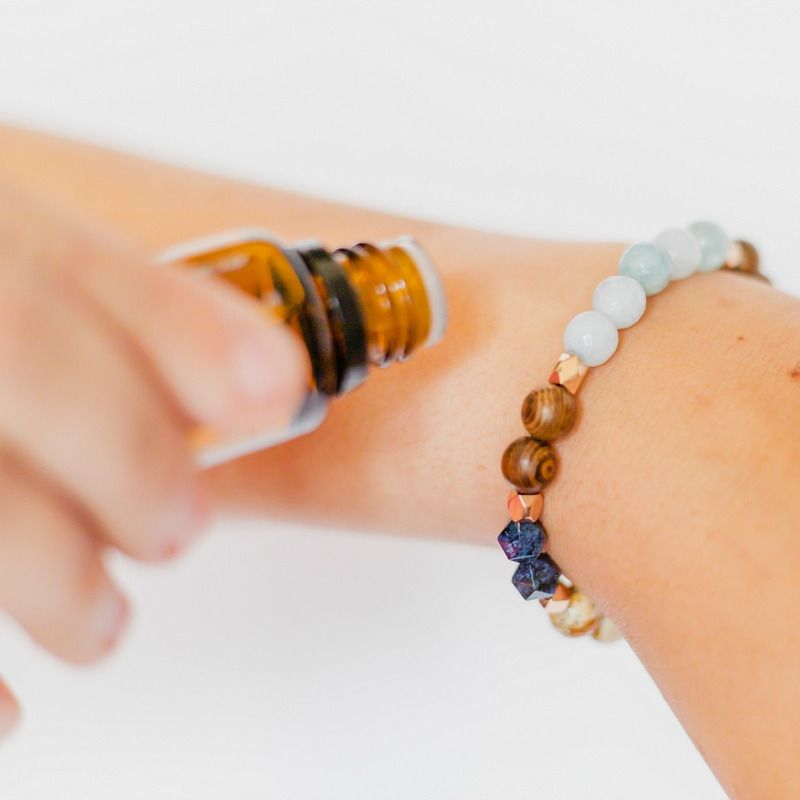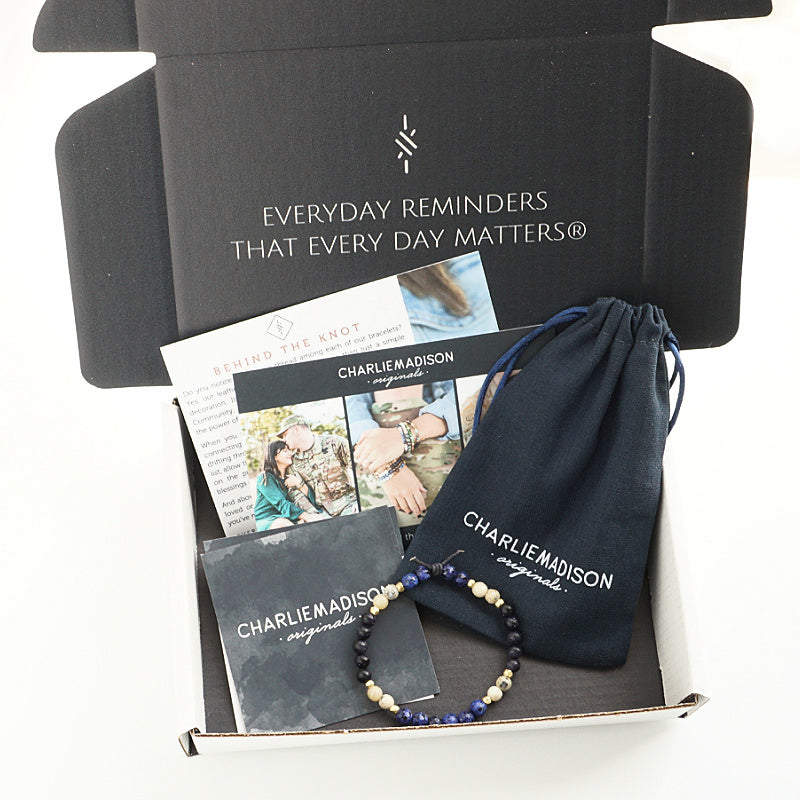 Positivity Mini Bracelet - Blue | Essential Oil Diffuser Bracelet
---
Supports military charities
Positivity Mini Bracelet. A mini essential oil diffuser bracelet with Dumortierite, Picture Jasper, and Sennawood beads that lets you take your oils on the go.
BRACELET MEANING
Positivity is a state of mind! It's a choice you make every day – to live your life with a positive outlook, to turn away from negativity and criticism, and to uplift someone in need. You never know another gal's story – her struggles, her fears, her losses – one simple act of kindness can change her whole day. Wear this bracelet as your everyday reminder to not only choose positivity in your own life, but to sprinkle it like confetti wherever you go.
"There are two ways of spreading light; to be the candle, or the mirror that reflects it." ~Edith Wharton
BRACELET DETAILS
Gemstones: 6mm matte Dumortierite & matte Picture Jasper
Diffuser beads: 6mm Sennawood
Metal accents: Sterling silver plated copper rings
Length: 7 to 7-1/4 inches on stretch cord to easily slip on and off your wrist
Finished with our signature decorative leather knot
Need a larger or smaller size? See FAQs below for more information.
Ready to gift in a beautiful linen pouch with a bracelet meaning card tucked inside. Diffuser instructions also included.
Made with love in the USA by a military family in our Maryland studio
Sold as a single bracelet
HOW TO USE AS A DIFFUSER BRACELET
Diffuse your favorite essential oils on the go without having to tote around a zipper bag full of bottles. Simply add a drop of oil to the wood beads and rub gently – re-apply when you need a little pick-me-up.
5% of every sale is donated to organizations that support military service members and their families. Learn how your purchase gives back.
CHARLIEMADISON ORIGINALS | EVERYDAY REMINDERS THAT EVERY DAY MATTERS®
What's the difference between a Mini Bracelet and Standard Bracelet?
Mini Bracelets are made with a bit smaller stones than our standard gemstone bracelets. The length is exactly the same (7 to 7-1/4 inches) so they are sized for adults. The Mini Bracelets are a bit daintier and make stacking a breeze!
What if the 7- 7-1/4 inch length won't work for my wrist?
If you need a smaller or larger length, we're happy to customize your bracelet to fit your wrist. Simply add your preferred length to the "Bracelet Sizing" box above before adding the item to your cart or leave us a note in the "Notes to Charliemadison Originals" box at checkout.
If you're not quite sure of your exact size, wrap a tape measure tightly around the wrist you plan to wear your brand new bracelet on and add one inch. Prefer your bracelet to be slightly loose? Add an extra ¼ - ½ inches.
How much will it cost to ship?
First-class USPS shipping within the U.S. and to military addresses is $5.95. Add a second bracelet to start your stack and honor your military family story and shipping is free over $79.
When will my order ship?
We're so excited for you to get your new piece of jewelry (or for it to arrive in the hands of your favorite gal)! Orders ship from our Maryland studio via USPS or UPS within 3-5 business days.
Do you offer returns or exchanges?
We want you to be completely delighted with your Charliemadison purchase. If by chance you're not, simply get in touch at info@charliemadisonoriginals.com within 30 days. We'll be happy to help you with a refund, exchange, or any other questions. Items purchased during sale events cannot be returned.
To ensure the longevity of your jewelry we recommend you:
Remove your jewelry before you shower and swim 
Avoid your jewelry coming in contact with moisture, lotions, perfumes, and hand sanitizer
Store your jewelry in a dry place to avoid tarnishing of metals
Do you have additional questions or concerns?
Contact us at info@charliemadisonoriginals.com and we can help with any questions you have!