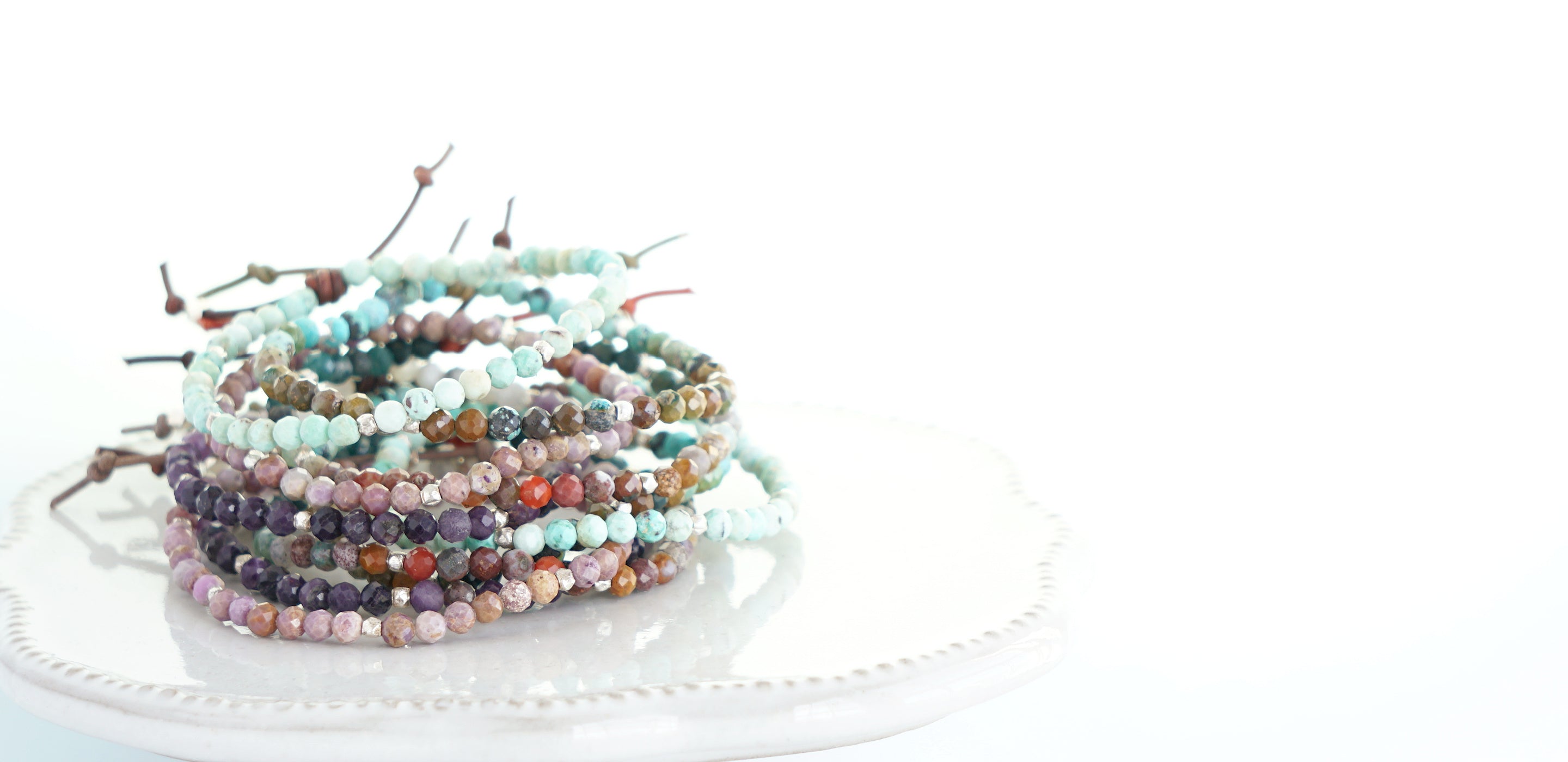 TINY MANTRAS
TINY BRACELETS WITH BIG INTENTIONS
Originally used in Hinduism and Buddhism, mantras were words or sounds repeated over and over to help one concentrate, especially during meditation. Today, we think of mantras as simple words or short phrases that you can repeat to yourself each day or post in a place that allows you to see them often throughout the day.
Mantras can be used to help you focus on something important to you, a goal you are working toward, or a reminder of traits you have inside yourself - the possibilities are endless and are personal to your journey.
The beauty of mantras is you can choose one to focus on for a period of time, select a new one each day of the week, or keep several mantras top of mind for different areas of your life.
Our Tiny Mantras Bracelets are tiny bracelets with big intentions. The perfect companion to keep you focused on your daily and weekly mantras. A mantra card is included with your bracelet and has space to write your chosen mantra. Change out your mantra as often as you like or gift a bracelet with a special mantra of your choice to a friend who needs some extra encouragement.
If you need a little inspiration for your next mantra, browse our list of everyday mantras to keep you focused no matter which season of life you find yourself in.
Write your chosen mantra on the card that came with your Tiny Mantras Bracelet or simply write it on a sticky note and keep it wherever you'll see it throughout the day.
EVERYDAY MANTRAS TO INSPIRE YOU THROUGH EVERY SEASON OF LIFE

EVERYDAY MANTRAS FOR
SELF CARE
1- I matter.

2- I believe in the person I am becoming.

3- I am proud of myself and what I have accomplished.

4- I say yes to myself today.

5- I focus on how I feel, not what I have accomplished.

EVERYDAY MANTRAS FOR
ENCOURAGEMENT
1- I am a reflection of the world around me.

2- I am worthy and deserving of all the universe has to offer.

3- I will look for the blessings that surround me.

4- I choose to see the good in all things.

5- I choose to be the best version of me.

EVERYDAY MANTRAS FOR
INNER STRENGTH
1- I am fearless today.

2- All experiences let me grow.

3- I know my worth.

4- Every life lesson is making me stronger.

5- I can make a difference in the world.

EVERYDAY MANTRAS FOR
STRESS RELIEF
1- Stay present. Be grounded. I am powerful

2- I focus on what I can control.

3- My well-being is my focus

4- I give myself permission to let go of what no longer serves me.

5- I have the power to settle my mind.

EVERYDAY MANTRAS FOR
THE TOUGH DAYS
1- I will take things one step at a time.

2- I accept what is instead of being resentful.

3- I choose calm over anxious.

4- I choose to be brave today.

5- I will not look back, only forward.

EVERYDAY MANTRAS FOR
TO REACH YOUR GOAL
1- I am creating the life of my dreams.

2- I will succeed.

3- I am stronger than my excuses.

4- I choose progress over perfection.

5- I use failure as a stepping stone.