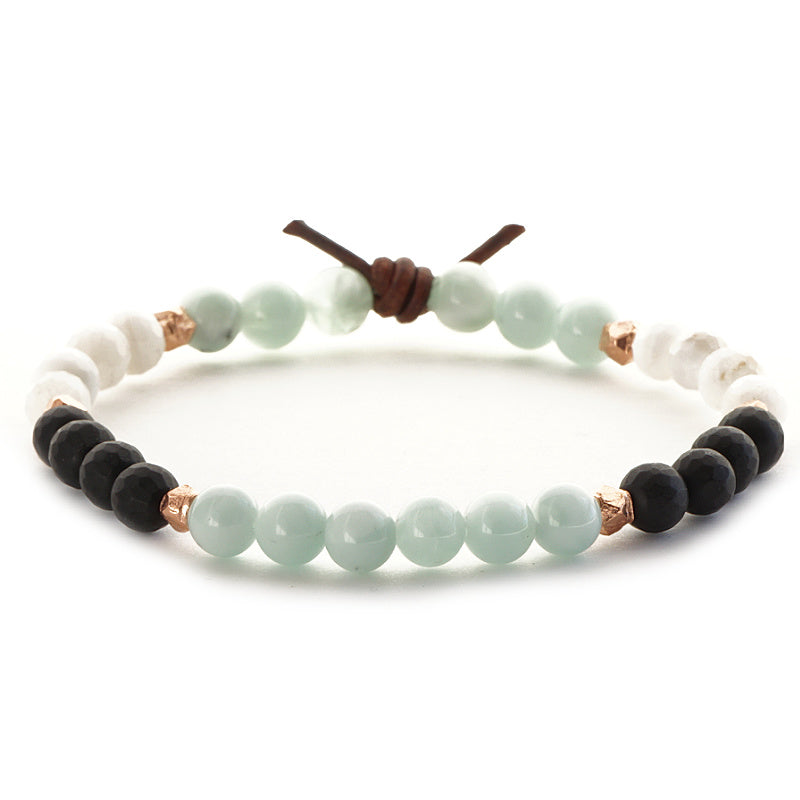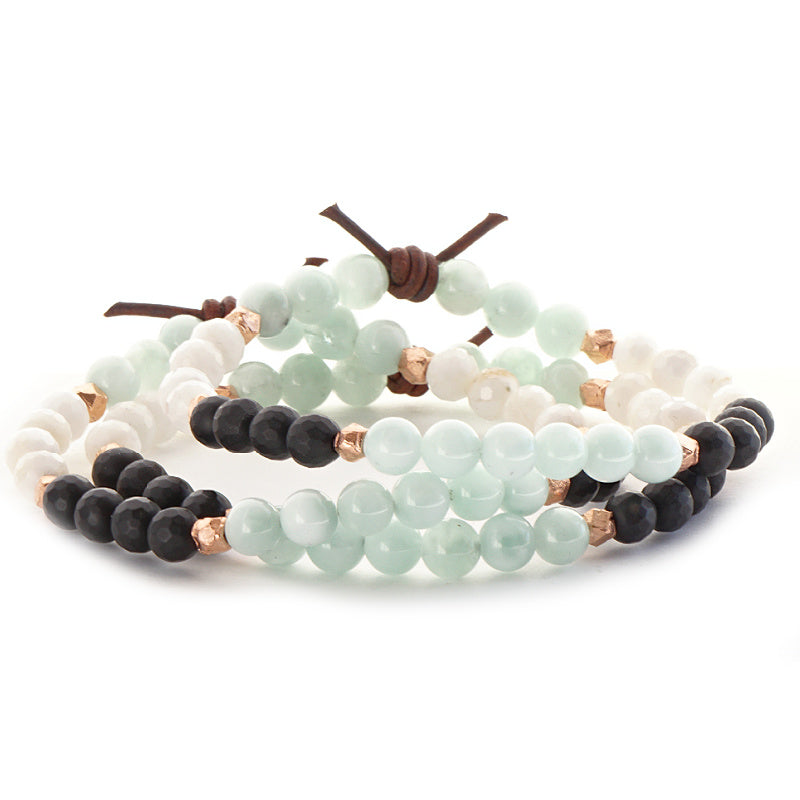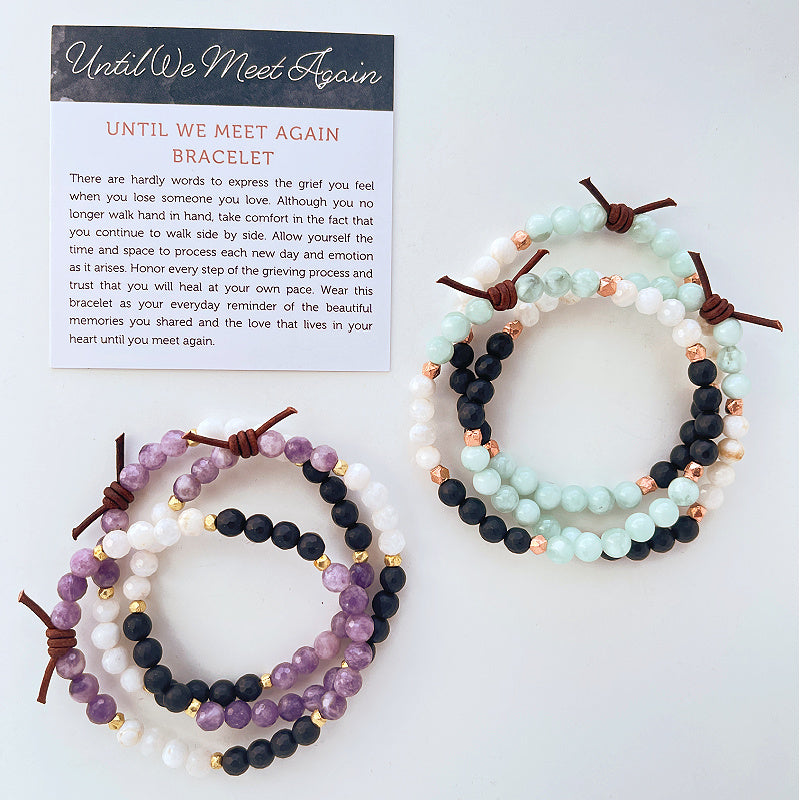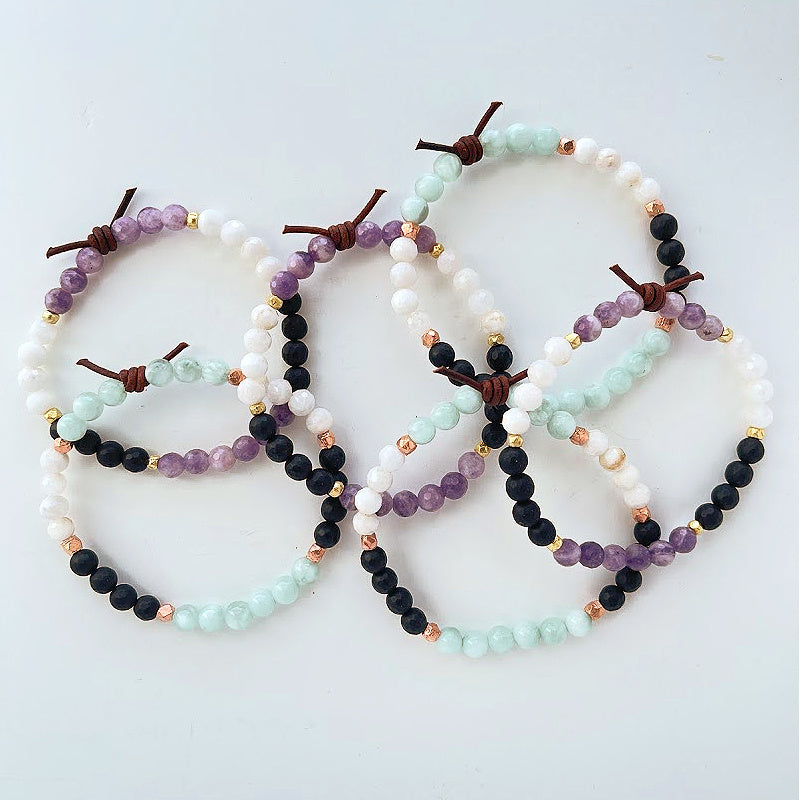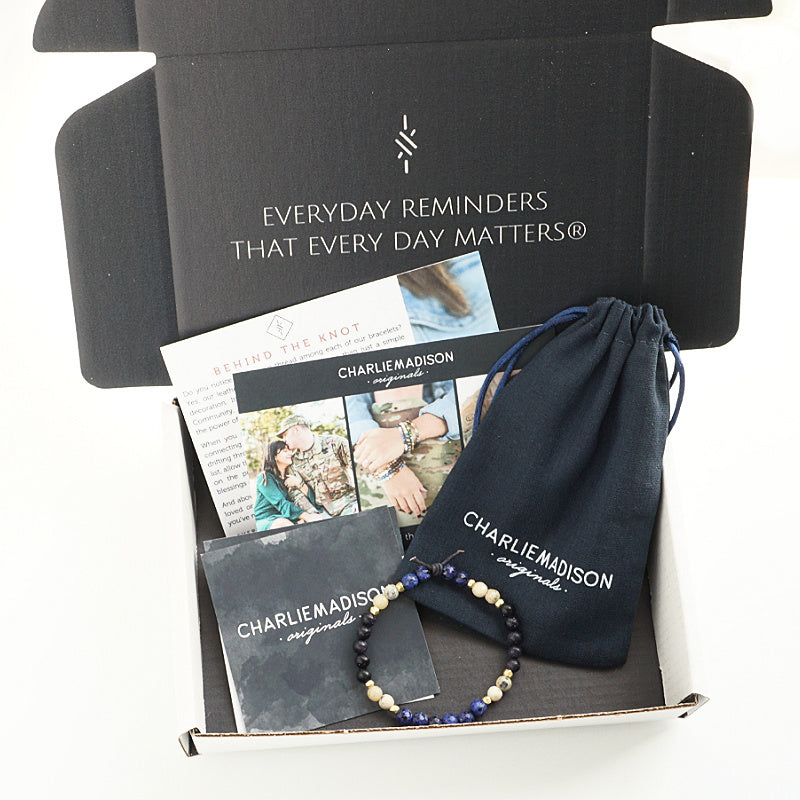 Until We Meet Again Bracelet - Angelite | A Bereavement Bracelet
---
Supports military charities
Until We Meet Again Mini Bracelet. A comforting reminder during your time of grief to help you remember the memories you shared with the one who meant so much. Made with Moonstone, Black Onyx, and Angelite gemstones - each with a special meaning to support you during your hardest days.
BRACELET MEANING
There are hardly words to express the grief you feel when you lose someone you love. Although you no longer walk hand in hand, take comfort in the fact that you continue to walk side by side. Allow yourself the time and space to process each new day and emotion as it arises. Honor every step of the grieving process and trust that you will heal at your own pace. Wear this bracelet as your everyday reminder of the beautiful memories you shared and the love that lives in your heart until you meet again.
"Do not think of me as gone. I am with you still in each new dawn." – Native American Poem
Made with both Moonstone and Black Onyx gemstones – representing day and night – to support you any time feelings of grief arise after the loss of your loved one. Black Onyx is a centering stone that helps with inner strength during times of loss. Moonstone is grounding and calming, helping to diminish fear and supporting you as you process grief at your own pace. Angelite is said to ease the pain of loss, bring a sense of compassion and forgiveness, and help you feel connected to those you've loved and lost.
Also available with purple Lepidolite gemstones here (see photos)
BRACELET FEATURES
Gemstones: 6mm matte Black Onyx, Moonstone, & Angelite
Metal accents: Rose gold plated copper nuggets
Length: 7 to 7-1/4 inches on stretch cord to easily slip on and off your wrist
Need a larger or smaller size? See FAQs below for more information.
Finished with our signature decorative leather knot
Ready to gift in a beautiful linen pouch with a bracelet meaning card tucked inside
Made with love in the USA by a military family in our Maryland studio
Sold as a single bracelet
5% of every sale is donated to organizations that support military service members and their families. Learn how your purchase gives back.
CHARLIEMADISON ORIGINALS | EVERYDAY REMINDERS THAT EVERY DAY MATTERS®
What's the difference between a Mini Bracelet and Standard Bracelet?
Mini Bracelets are made with a bit smaller stones than our standard gemstone bracelets. The length is exactly the same (7 to 7-1/4 inches) so they are sized for adults. The Mini Bracelets are a bit daintier and make stacking a breeze!
What if the 7- 7-1/4 inch length won't work for my wrist?
If you need a smaller or larger length, we're happy to customize your bracelet to fit your wrist. Simply add your preferred length to the "Bracelet Sizing" box above before adding the item to your cart or leave us a note in the "Notes to Charliemadison Originals" box at checkout.
If you're not quite sure of your exact size, wrap a tape measure tightly around the wrist you plan to wear your brand new bracelet on and add one inch. Prefer your bracelet to be slightly loose? Add an extra ¼ - ½ inches.
How much will it cost to ship?
First-class USPS shipping within the U.S. and to military addresses is $5.95. Add a second bracelet to start your stack and honor your military family story and shipping is free over $79.
When will my order ship?
We're so excited for you to get your new piece of jewelry (or for it to arrive in the hands of your favorite gal)! Orders ship from our Maryland studio via USPS or UPS within 3-5 business days.
Do you offer returns or exchanges?
We want you to be completely delighted with your Charliemadison purchase. If by chance you're not, simply get in touch at info@charliemadisonoriginals.com within 30 days. We'll be happy to help you with a refund, exchange, or any other questions. Items purchased during sale events cannot be returned.
To ensure the longevity of your jewelry we recommend you:
Remove your jewelry before you shower and swim 
Avoid your jewelry coming in contact with moisture, lotions, perfumes, and hand sanitizer
Store your jewelry in a dry place to avoid tarnishing of metals
Do you have additional questions or concerns?
Contact us at info@charliemadisonoriginals.com and we can help with any questions you have!