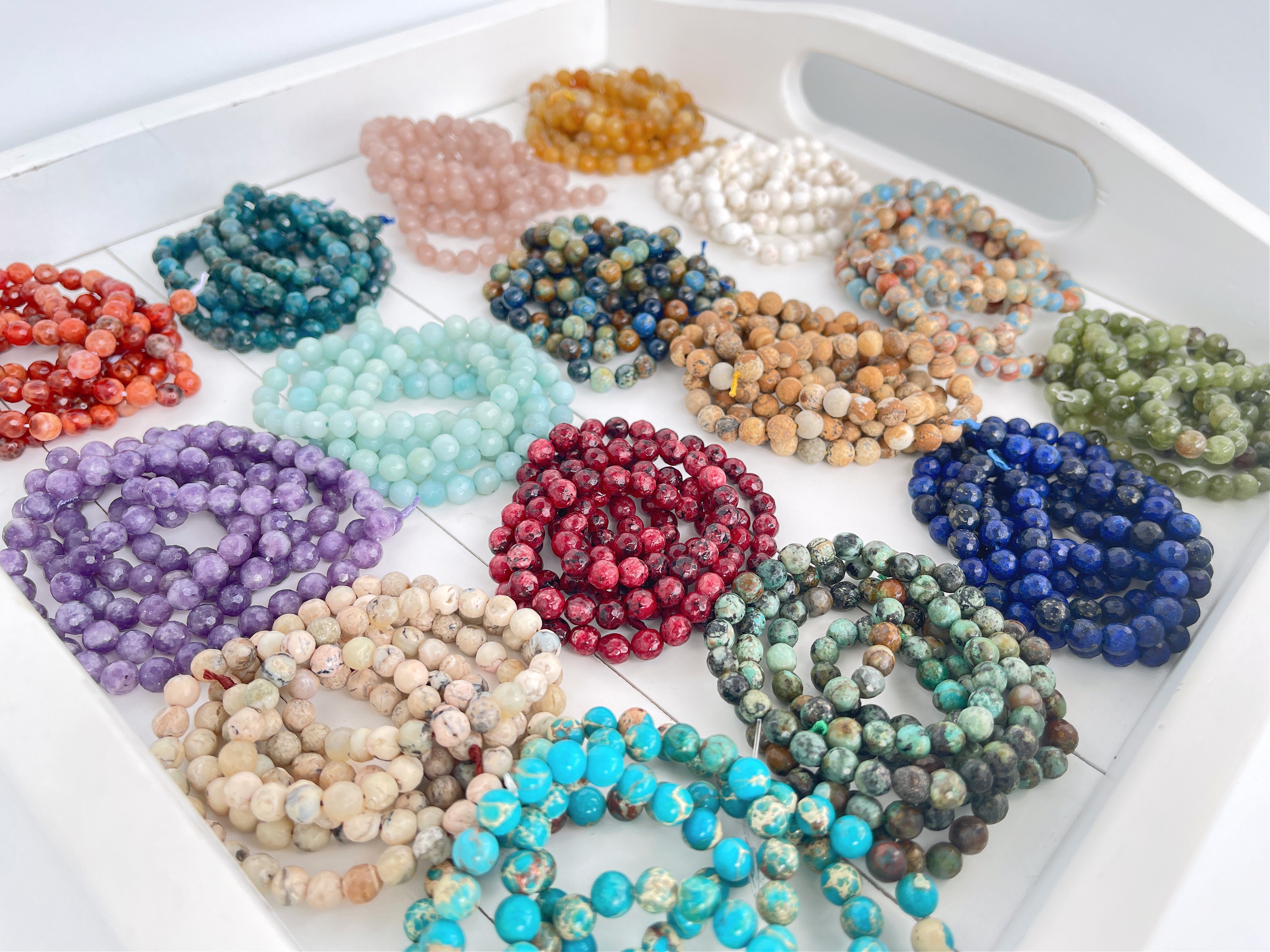 THE MEANING BEHIND THE GEMSTONES
Ever wonder about the meaning behind your favorite gemstone? Or are you searching for a gem to keep you focused on what matters most in your life? Browse the meanings behind the gemstones we use in many of the styles we carry in our shop.
AFRICAN OPAL
African Opal gems are known for
calming and soothing – they promote inspiration and creativity, and help you recognize the possibilities and see the big picture.
AFRICAN TURQUOISE
Despite its name, African turquoise
is not true turquoise, but is a type of Jasper gemstone. Considered a stone of awakening, it encourages you to find your true purpose, seek wisdom, and open your mind to
new ideas and opportunities.
AGATE
Agate is a soothing and calming
stone. It helps to balance your mind, body, and spirit and gives you courage and inner strength to be yourself.
AMAZONITE
Amazonite is an empowering gemstone that promotes kindness and confidence, allowing you to stay true to yourself and speak from your heart.
AMETHYST
Amethyst is the stone of happiness;
it promotes sincerity and patience, heals negativity, and encourages
contentment.
ANGELITE
Angelite is said to ease the pain of loss, bring a sense of compassion and forgiveness, and help you feel connected to those you've loved and lost.
APATITE
Apatite is a stone of inspiration; it
promotes creativity and clarity and helps dissipate negativity.
AQUAMARINE
Aquamarine is known as the stone of
courage. It helps reduce stress and calm the mind, while promoting focus, clarity, and creativity.
AZURITE
Known as a psychic stone, Azurite works with the third eye chakra to open your mind to spiritual guidance. Azurite helps clear the mind of negative thoughts, aids us in letting go of negative beliefs, and opens us to a deeper understanding of life's mysteries.
BLACK ONYX
Black Onyx stones are associated with energy and are said to offer protection to your personal energy, as well as absorbing the negative energy around you. They may also promote wise decision-making and ease mental stress.
BLUE AVENTURINE
Blue Aventurine aids and supports inner growth and spiritual development - it is said to help you maintain inner peace, despite the chaos and encourages you to speak out when necessary.
BRAZIL PETRIFIED WOOD AGATE
Brazil Petrified Wood Agate is a grounding stone that is said to connect you to the earth's energy. It promotes wisdom, helps with accepting past lessons, and encourages spiritual growth.
BRONZITE
Bronzite is known as a stone of peace, harmony, and compassion. It's a calming stone that helps boost confidence and self-esteem and encourages you to focus on the things most important to you and not those around you.
CARNELIAN
Known as the Sunset Stone, Carnelian has been revered by royalty back to ancient Egyptian times. This fiery gemstone promotes courage, bravery, confidence, and leadership. A symbol of boldness, energy, and empowerment, Carnelian boosts creativity, helps with public speaking, and brings a sense of motivation when you need it most.
CHRYSOPRASE
Chrysoprase is said to promote hope, joy, and compassion; it encourages personal growth, non-judgment, and the acceptance of oneself and others.
CITRINE
Citrine is a stone of energy, helping to stimulate creativity, self-confidence, and motivation. It's known to help clear out negative energy and promote joy and positivity in your life.
CLEAR QUARTZ
The most powerful of all crystals & known as a master healer. A wonderful companion for those on a spiritual journey (and for meditation), they're said to remove energy blocks, help clear your mind, body, & spirit of past fear, anger, & resentment. Clear Quartz encourages a deep understanding of life & inspires you to release the feeling of lack or need, for everything you need is already inside you – you're exactly as you were meant to be.
CRAZY LACE AGATE
Crazy Lace Agate is known as the happiness stone - it is said to boost self-confidence and inspires you to stay present and be grateful for every moment.
DALMATIAN JASPER
Dalmatian Jasper is a grounding stone that helps you to see your strengths and weaknesses; it inspires loyalty in relationships and encourages a sense of fun in your life.
DUMORTIERITE
Dumortierite helps with organization and focus; it brings a sense of order and clarity, releases fear, and boosts courage and creativity.
FELDSPAR
Feldspar is a stone of creativity and self-awareness. It brings a sense of loving awareness of ourselves and others and helps us find new ways to accomplish our goals.
FIRE AGATE
Fire Agate is a stone of inspiration, courage, and strength - it has a fiery energy that inspires and is said to give you the courage to follow your dreams and remain on your spiritual path, despite the obstacles.
FLUORITE
Fluorite helps you to recognize the harmony and joy of the universe, connects you with your intuition, and clears away the negative energy that surrounds you.
GARNET
Garnets are energizing gemstones that help attract positive energy. They encourage self-confidence, help transform negative thoughts into positive ones, and bring a sense of faith and trust in oneself.
GREEN OPAL
Green Opal is a stone of interpersonal relationships – helping to strengthen communication with family, friends, and in business. It is also known as a spiritual stone that encourages positivity and comforts those who are grieving.
HEMIMORPHITE
Hemimorphite encourages empathy and compassion with oneself and others. It brings about feelings of happiness and assists with emotions and spiritual growth. 
Herkimer diamond quartz
Herkimer Diamonds are a uniquely shaped type of clear Quartz - the most powerful of all crystals & known as a master healer. A wonderful companion for those on a spiritual journey (and for meditation), they're said to remove energy blocks & help clear your mind, body, & spirit of past fear, anger, & resentment. Clear Quartz encourages a deep understanding of life&inspires you to release the feeling of lack or need, for everything you need is already inside you – you're exactly as you were meant to be.
HESSONITE GARNET
Used as a powerful talisman for centuries, Hessonite Garnet is a wonderful companion for manifesting and allows you to be open to receiving what is meant to help you grow and learn. It brings clarity, aids in releasing negativity, and encourages you to let go of past guilt and burdens so you can embrace the present moment and the journey ahead.
HOWLITE
Howlite helps to soothe and calm the mind; it encourages the development of intuition and inspires your ambitious nature.
IOLITE
Known as the "Viking's Compass," Iolite was used by the Vikings to guide them along their journeys at sea. Iolite is said to be a guiding stone that can aid one with dreams, intuition, and the spiritual realm. 
JADE
Jade comes in many colors. Jade is a spiritual stone that encourages a sense of calm, wisdom, and peace. It is known to ease anxiety, stress, and fears, repel negative energy, and promote relaxation.
JASPER
Jasper is a stone of grounding, stability, and centering – a perfect complement to meditation. It helps with conflict resolution, encourages perseverance after setbacks, promotes joy for life, and encourages compassion for others.
KAMBABA JASPER
While called Jasper, this gemstone is actually a stromatolite or fossilized algae. It is  known to bring peace and tranquility to the wearer, calming the heart from past emotional difficulties. Kambaba Jasper is also a wonderful stone for meditation.
KYANITE
Kyanite is a high-energy stone that is said to bring all the chakras into alignment. It promotes clarity and helps clear the mental and emotional stressors of everyday life.
LABRADORITE
Labradorite is a stone of transformation; it strengthens intuition, encourages self-reliance and faith.
LAPIS LAZULI
Lapis Lazuli is a symbol of wisdom and truth – it's known for promoting your desire for truth and understanding.
LARIMAR
Larimar is known as an enlightening stone, helping to relieve stress and provide peace and clarity to release what no longer serves you. It promotes a more joyful state, encourages you to speak from the heart, and allows you to see situations from a new perspective.
LARVIKITE
Larvikite is known for its protective qualities and helping us connect with Earth's energies. It is wonderful for repelling negative energy, promoting our understanding of complicated issues, and aiding in rational decision making.
LAVA
Lava rocks are stones of grounding and protection. They help in finding your focus, bringing balance to your life, and grounding scattered energy.
LEPIDOLITE
Lepidolite promotes a sense of calm, especially on days when you're feeling anxious. The soft purple color of this gemstone encourages tranquility, calming, and inner peace.
MAGNESITE
Magnesite is a centering stone; it stimulates creativity, passion, and brings a sense of peace during meditation. It opens your heart to feelings of unconditional love for yourself and others.
MOONSTONE
Moonstone is known for its energy, helping to balance emotions and enhance intuition and inspiration. It is said to be a stone of new beginnings and assists with personal growth and inner strength.
MORGANITE
Morganite is known as the heart stone, helping encourage self-love and empowering you to live with a light heart. It boosts focus and mental clarity, calms resentments, and encourages compassion toward others.
MOTHER OF PEARL
Mother of Pearl, often associated with the moon, is said to relax, soothe, and calm the emotions. It is also known to boost intuition, heighten imagination, and help the wearer to become more adaptive
OCEAN JASPER
Ocean Jasper is a stone of peace, spirituality, and strength - it is said to encourage positivity and patience, helps you adapt to change, and reminds you to let go of whatever burdens you.
OPAL
Opal comes in many colors and is said to boost creativity and confidence, encouraging you to be yourself and embrace your true nature. It is also known as a stone of good luck that helps bring good things into the life of the wearer.
PERIDOT
Peridot is a stone of compassion, helping inspire you to follow your dreams and focus on the positive thoughts that lead to action. It encourages you to let go of what keeps you stuck in the past, embrace growth and change, and stay accountable for taking action on what moves you closer to your dreams.
PHOSPOSIDERITE
Phosphosiderite is known for its calming and soothing properties and is said to help the wearer connect with high-vibration energy. It is a good choice for meditation, as it is known to relieve stress and inspire inner joy.
PICTURE JASPER
Picture Jasper is a comforting stone, bringing a sense of calm and nurturing to the wearer. It encourages stillness and a desire for inner contemplative thought and reflection.
PINK AVENTURINE
Pink Aventurine is a calming stone that promotes a sense of well-being, inspires creativity, and encourages clarity when making life decisions.
PREHNITE
Prehnite is the stone of unconditional love – it helps with personal growth and strengthens intuition.  
PYRITE
Pyrite is a powerful stone – said to boost confidence & activate the warrior inside you. Often used as a manifestation stone, it encourages you to be decisive, take action on your goals, & create the life of your dreams.
RHODONITE
Rhodonite is a stone of love. It encourages self-worth, well-being, and generosity.
ROSE QUARTZ
Rose Quartz is known as the stone of love - it promotes compassion and forgiveness, removes negativity, encourages peace, heals emotional wounds, and opens your heart to love.
RUBY
Ruby is known as a stone of courage, inspiring passion and boldness in everyday life. It encourages optimism and determination to help you continue moving forward on your journey even when things are difficult. 
RUBY QUARTZ
Ruby Quartz is said to bring passion and energy to the wearer and offers protection during times of instability and uncertainty. It is also a highly spiritual crystal and helps with transformation, healing, and growth.
SILVER QUARTZ
Silver Quartz is part of the clear Quartz family – it is used to promote learning, understand one's limitations, and encourage diplomacy.
STRAWBERRY QUARTZ
Strawberry Quartz has the ability to amplify intentions of love, gratitude, and generosity, and can radiate those vibrations outward.
SODALITE
Sodalite is an empowerment gemstone that helps you focus on the calm, even during the chaos. It's a wonderful companion to keep close during difficult times, helping you release the stress and fear of those tough situations. Also a good choice for meditation, Sodalite encourages self-reflection so you can discover your strengths, weaknesses, and ambitions.
SPINEL
Spinel is known to inspire a joy for life, encouraging you to take time to relax &reflect on what you've accomplished. It's especially helpful for Type-A go-getter personalities, who are always moving on to the next task rather than celebrating how far they've come. It energizes you with new ideas, broadens your perspective, & helps you to clear out limiting beliefs that keep you stuck in old patterns. Spinel encourages self-acceptance & fosters the belief that you are supported as you grow into the highest version of yourself.
SUNSTONE
Sunstone is an energizing gem; it promotes self-esteem, eases fears, and empowers you to embrace yourself just as you are.
TIGER'S EYE
Tiger's Eye has been known throughout history as a stone of power, courage, and good fortune. It helps bring clarity and understanding and empowers you to move past your self-imposed limitations to live boldly.
TOURMALINE
Tourmaline is known as a heart stone. It helps soothe your heart and emotions to help overcome old resentments and release stress.
TREE AGATE
Tree Agate is a stone of inner peace; it aids in physical, emotional, and spiritual strength and helps calm the mind, body, and spirit.
TURQUOISE
Turquoise is the symbol of friendship; it brings a sense of peace and conveys wisdom and truth.
Note: The information on this page should be used for informational purposes only and should not be used to diagnose, treat, or cure a medical condition. Please seek out a healthcare professional for treatment for any medical issues.