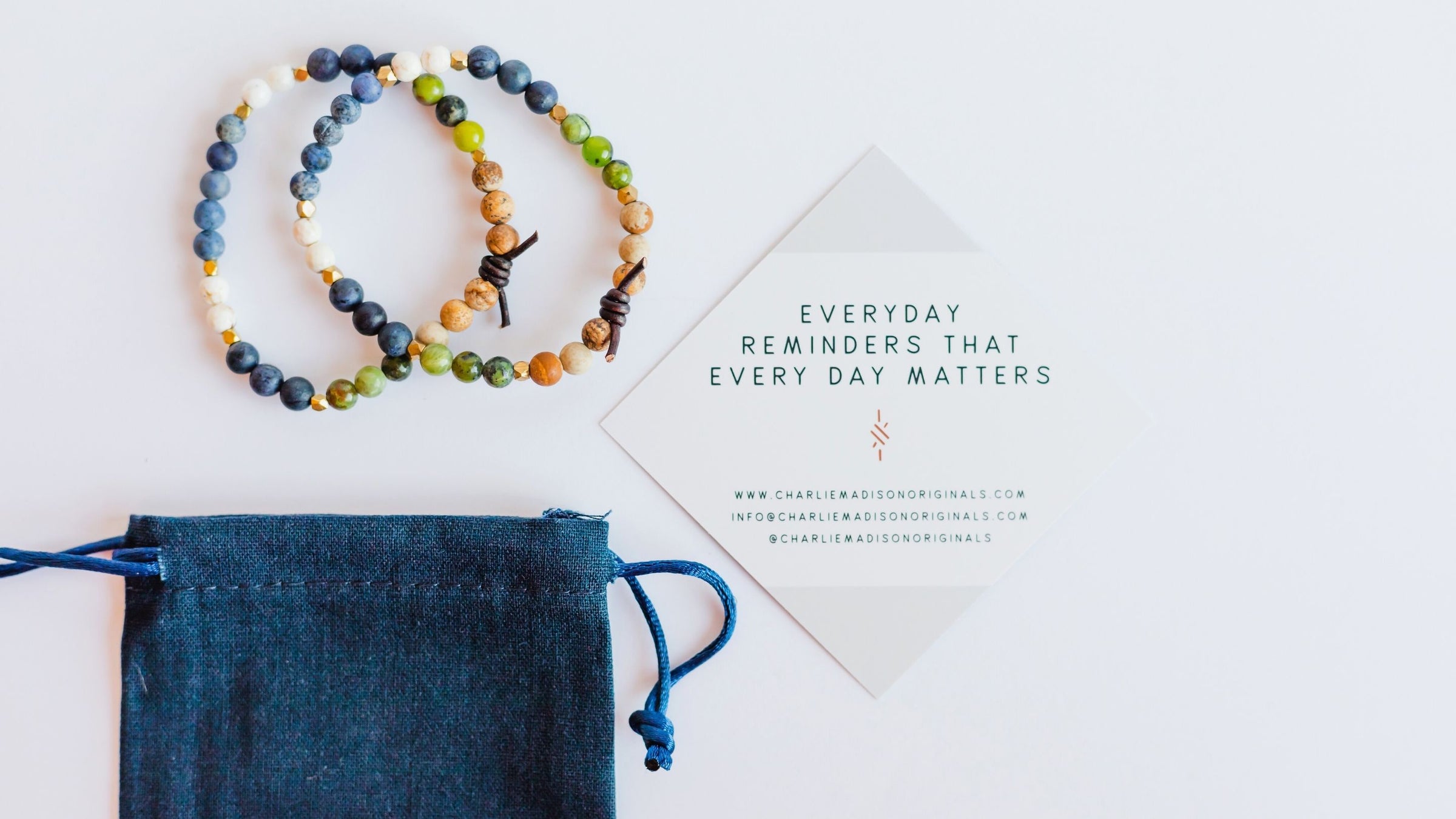 We go the extra mile to make sure you love your purchase. Little details like beautiful packaging, hand-written notes, and jewelry meaning cards make your purchase feel extra special - whether it's a gift to yourself or for a special gal in your life.
If you have a question or two before you hit the buy button, we've got you covered. Browse the most frequently asked questions below and if you can't find an answer, simply click the Contact Us link in the main menu and we'd be happy to help.
Thanks so much for supporting our small business and for helping us give back to military charities!
We accept VISA, Mastercard, American Express, Discover, and even PayPal.
A 6% sales tax will be added at checkout if your order is shipping to Maryland.
Occasionally, we'll share discount codes in our Community Facebook Group, with our newsletter list, and on social media. Be sure to join our email list to receive updates on any current promotions. You'll get a 20% off code sent straight to your inbox as a thank you for signing up! 

We also share extra discounts, special events, surprise promos, and early shopping on new styles with the Charliemadison Insiders - join our group here.

We also have a Jewelry Rewards Program that lets you earn earn points towards free Charliemadison Originals jewelry when you shop & share with your friends.

Only one discount code may be used per order. And, discount codes, gift certificates, and Jewelry Rewards certificates cannot be combined. Please also note that discount codes and certificates do not apply to shipping costs and taxes.
Have a discount code or Jewelry Rewards certificate to use? Click the "Checkout" button in your shopping cart (don't worry—if you want, you can still pay via PayPal on the next screen). Then, on the right-hand side of the shopping cart, enter the discount or certificate code in the box that says "Gift card or discount code." If the code hasn't expired and is valid, it'll be applied to your order.

Only one discount code may be used per order. And, discount codes, gift certificates, and Jewelry Rewards certificates cannot be combined. Please also note that discount codes and certificates do not apply to shipping costs and taxes.
Each piece of Charliemadison Originals jewelry is packaged in our signature linen jewelry bag and shipped inside our custom boxes. We're happy to include a handwritten note for the lucky gal in your life with your gift order. 

Simply leave us a note during checkout, and we'll tuck your personal message inside the package. Invoices are included with all orders, but the price(s) will be excluded.
BRACELET SIZING | STOCK | CUSTOM DESIGNS
Our standard bracelet size is approximately 7 – 7-1/4 inches. If you need a smaller or larger size, we're happy to customize the length to fit your wrist. Simply leave us a note during checkout with your preferred length. 

If you're not quite sure of your exact size, wrap a tape measure tightly around the wrist you plan to wear your brand new Charliemadison Originals jewelry on, and add one inch. Prefer your bracelet to be slightly loose? Add an extra ¼ - ½ inches.
We do our very best to keep designs in stock. Sometimes, however, our manufacturers are in short supply or discontinue specific pieces. We wish this didn't happen because we fall in love with every piece of jewelry!

That said, if you do see a piece you just can't live without, don't wait to buy it because we can't guarantee it'll be restocked.

If there was an out-of-stock item or previously featured piece you had your heart set on, click the Contact Us link in our main menu to get in touch. We'd love to hear from you and see if we can pair you up with a similar piece.
If you have a unique piece in mind or gemstone colors you'd like us to combine, we'd love to work with you to create a custom design. 

Please click the Contact Us link in our main menu to get in touch so we can collaborate, and get to work on a one-of-a-kind everyday reminder for you or that special lady in your life to wear with pride! 
We're so excited for you to get your new piece of jewelry (or for it to arrive in the hands of your favorite gal)! Orders typically ship from our Maryland studio within 3-5 business days. During big sale events, however, it may take us a bit longer to get your order shipped.

Orders of more than $79 receive free First Class Shipping in the U.S.

Once your package leaves our studio, we have no control over the shipping/handling times of the chosen carrier. 

Approximate arrival times—based on USPS and UPS estimates—are as follows:
USPS First Class Mail: 2-7 business days
USPS Priority Mail: 1-3 business days
USPS Priority Express: 1-2 business days
UPS Ground: 3-5 business days

**Please keep in mind arrival times may change due to inclement weather conditions and especially during increased holiday shipping in November and December. 

If you upgraded to Priority or Express shipping at checkout, this only speeds up the transit time—not the order processing time. If you need expedited processing for a special occasion, please click the Contact Us link in our main menu to get in touch before placing your order. We'll do everything we can to accommodate your needs.
Expedited shipping is available for most products in our shop. At checkout, you'll have the option to select your preferred expedited shipping method—USPS Priority Shipping or USPS Priority Express Shipping.

Doing this will not, however, expedite our processing times. If you need your jewelry in a pinch for a special occasion, please get in touch at info@charliemadisonoriginals.com, and we'll do our very best to get it to you as soon as possible.
We do ship internationally, however we cannot promise your package will arrive by a certain date. You'll receive a tracking number when your order leaves our studio, however that will only show tracking within the U.S. Once the package leaves the U.S. we are unable to track its location. Sometimes, packages get held up in customs, causing transit times to vary.

We're also not responsible for any additional customs taxes, duties, and fees your country imposes on your package, nor can we predict what they might be.

Please contact your country's customs office for more information. Customs labels will list the name and retail value of the contents, and cannot be marked as a gift or with a value less than retail.
*We are not currently shipping to the U.K.
When your order ships, you'll receive a confirmation email from us with a tracking number so you can follow it from our studio to your (or your gal's) mailbox. Be sure to check your junk/spam folder if you don't receive it!
Carrier tracking systems are notoriously unreliable, which can be frustrating when you're waiting for your package to arrive. Occasionally, tracking information will show your package is "Stuck in transit." In our experience, this doesn't mean your package is lost, but is held up somewhere in the carrier's system. Unfortunately, we do not have access to any additional tracking information on our end - we see the same updates on package status as you do.

In the rare event your package is lost or damaged during shipment, please get in touch with us at info@charliemadisonoriginals.com. We'll be happy to provide the information necessary so that you can get in touch with the carrier to submit a claim. 

If your package tracking shows that is was delivered but you have not yet received it, please take the following steps:

1- Check with neighbors to see if the package was mis-delivered

2- Reach out to the carrier you chose - either your local post office or UPS.  All lost / stolen package claims must be handled directly with the carrier. The links to submit a claim are as follows:

USPS: https://www.usps.com/help/claims.htm
UPS: https://www.ups.com/us/en/help-center/claims-support.page
We want you to be completely delighted with your Charliemadison Originals purchase. If by chance you're not satisfied, or your new jewelry arrives damaged or broken, we'll be happy to help.

Charliemadison Originals accepts the return of unworn and undamaged jewelry within 30 days of the purchase date. Returns received within 30 days of the purchase date are eligible for a refund to the original payment method. Please allow 2-3 business days for the return to arrive at our studio within the 30-day window.

Jewelry must be in its original packaging to be eligible for a return. Shipping fees are non-refundable.

Gift Returns: If your return was a gift and is a currently stocked item, we'll issue a shop credit. We cannot accept returns of gifted items purchased during a sale.

Final Sale: Sale items (ex. seasonal sales and sample sales) and custom orders are final sale and not eligible for return.

Exchanges: If you wish to exchange one style for another, please return your original order for a refund (excluding shipping fees) to the original payment method, and use that to purchase a new item. Sale items are not eligible for exchange. Doing this will be considered a new purchase, so shipping fees may apply.
If you're ready to initiate a return or exchange, click the Contact Us link in our main menu and we'll assist you as quickly as possible.  
If you happen to change your mind about your order, please click the Contact Us link in our main menu and get in touch within 24 hours of your purchase. We'll refund your order amount and shipping charges to the original payment method.

If your order has already shipped, however, you can return it by following our return policy. Please note, shipping fees cannot be refunded.
We're proud to use high-quality metals and gemstones in all of our designs. But, that doesn't mean our jewelry is everlasting when it comes to everyday wear and tear. 

Because we know you love to keep your meaningful pieces close, we recommend you remove them before showering, sleeping, swimming in the pool or ocean, and exercising.

Exposing your jewelry to water, chemicals, and extreme heat will cause the metal beads and rings to tarnish, and may cause the bracelet cord to break. When you don't have it around your wrist, be sure to store it inside a plastic zipper bag to limit metal tarnishing.
We create each piece with the utmost love and care. Though, if your jewelry happens to break within 30 days of purchase, we'll restring it at no charge to you. Send us a note today to get the process started.

If more than 30 days have passed since your purchase, we are happy to restring it for a fee of $5. You can arrange your repair by following the instructions here. Shipping costs to our studio for all repairs are the responsibility of the customer. If your repair requires the replacement of stones or metal components that are no longer available, we'll be sure to let you know as soon as possible and do our very best to find a similar substitute.

**The current turnaround time for repairs is 1-2 weeks from the time we receive your piece. 
We love hearing from businesses and organizations that share a similar mission to ours! Feel free to get in touch with Wendy at info@CharliemadisonOriginals.com with details about your inquiry.

Due to the large number of requests we receive, however, we may not be able to honor every request.

Monetary Donations:We are proud to donate 5% of our sales each year to organizations that support military members and their families and we make this donation on an annual basis. Therefore, we're unable to accept requests for additional monetary donations throughout the year.
Have a question we didn't answer? Click the Contact Us link in our main menu to get in touch or feel free to email us at the address below.
EMAIL: info@charliemadisonoriginals.com
MON - FRI   9:00 am - 4:00 pm EST