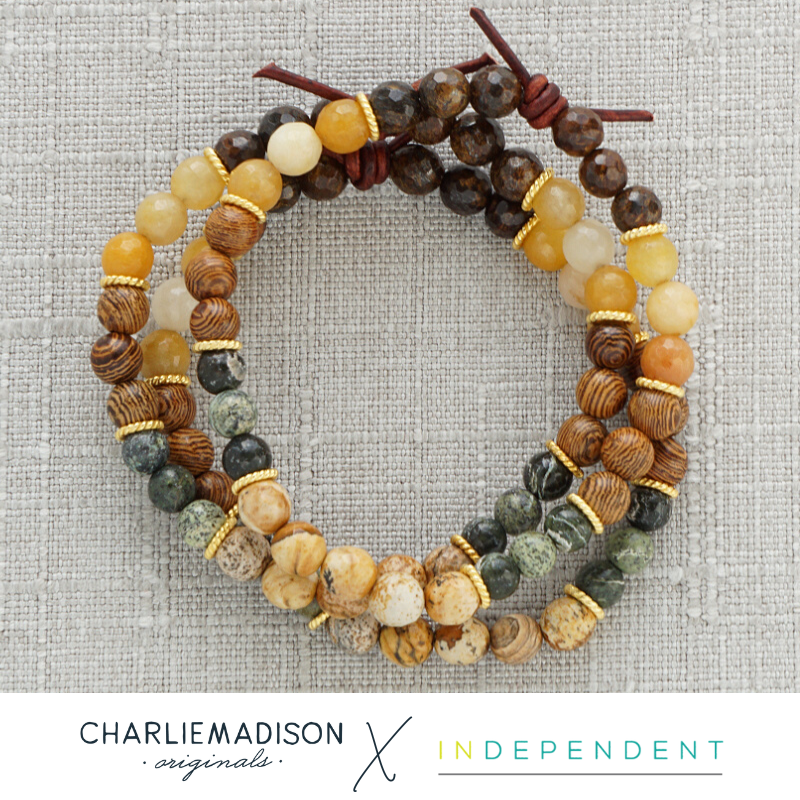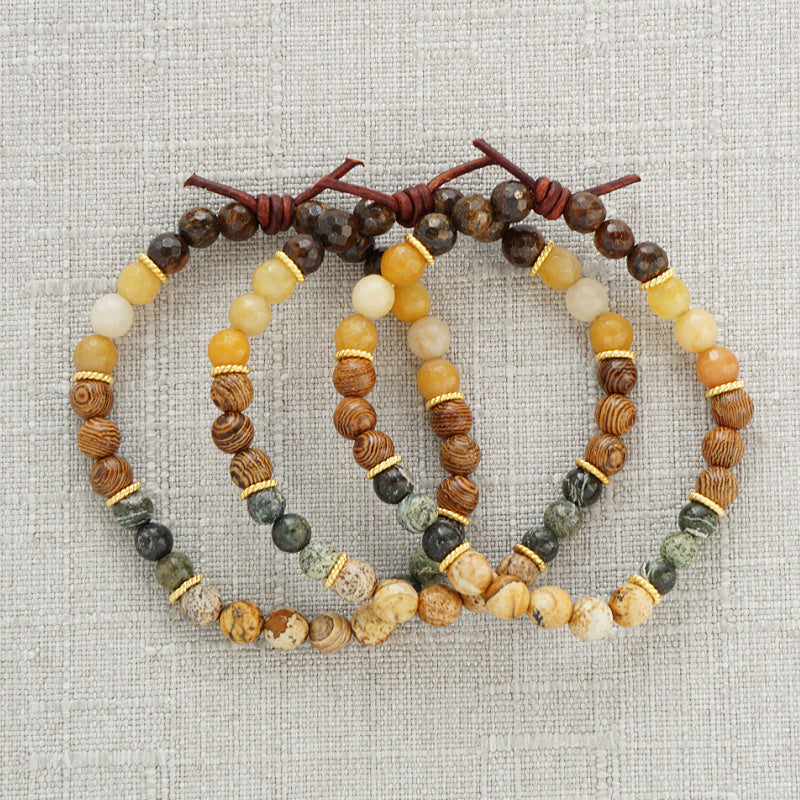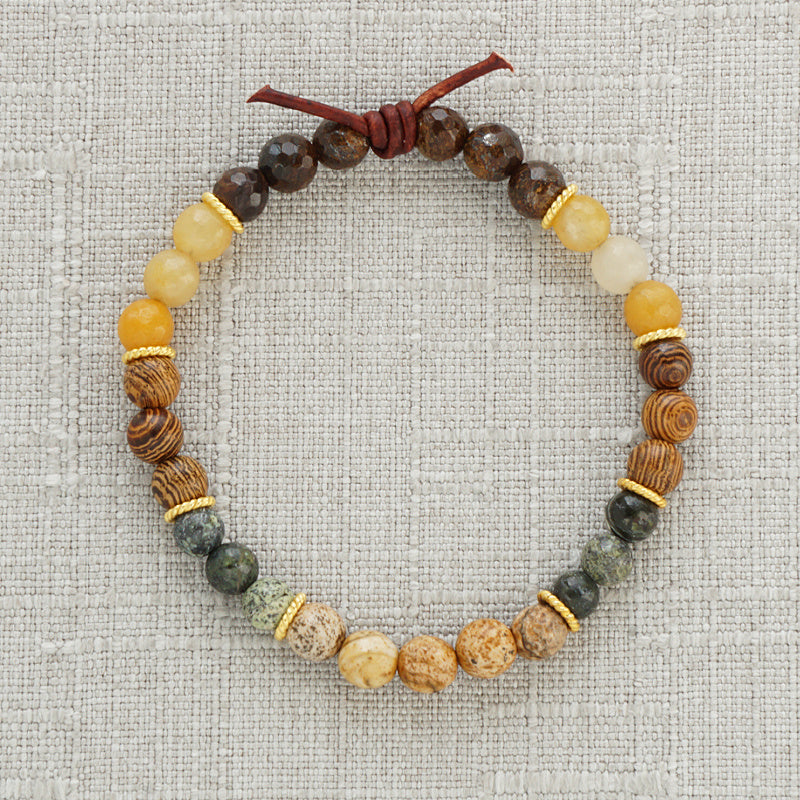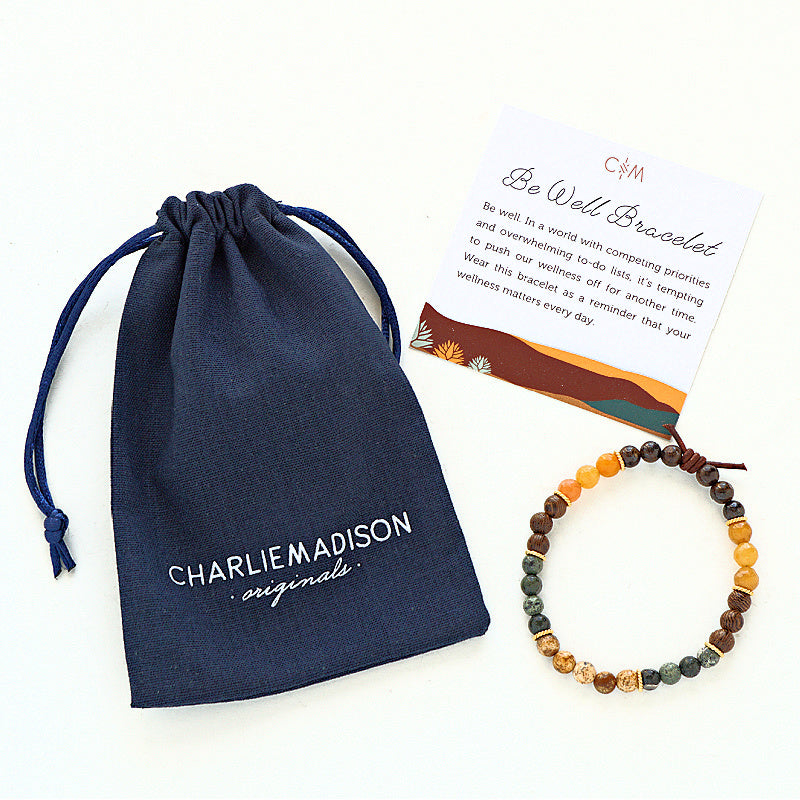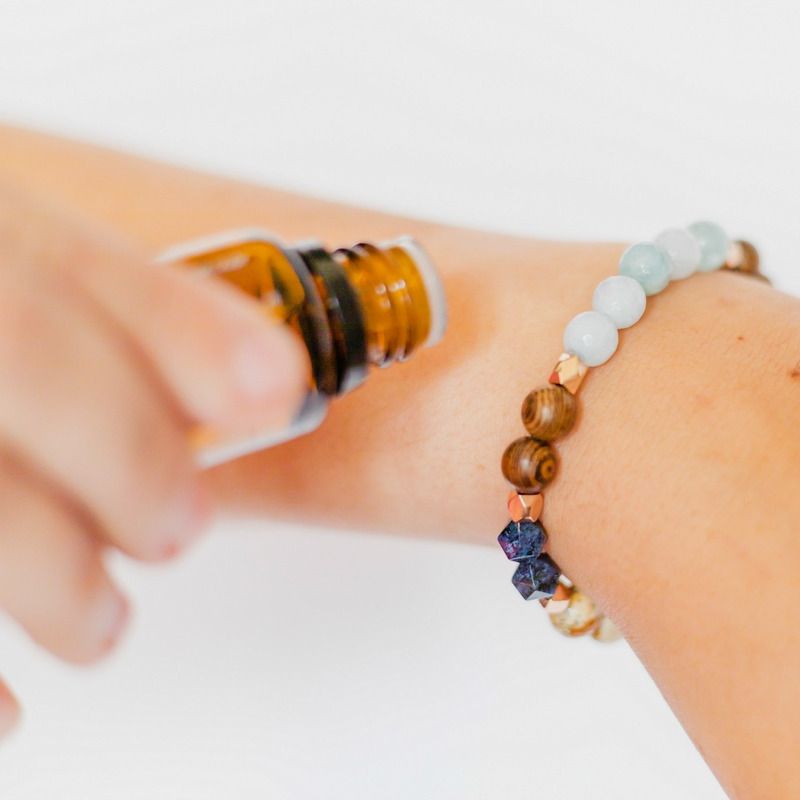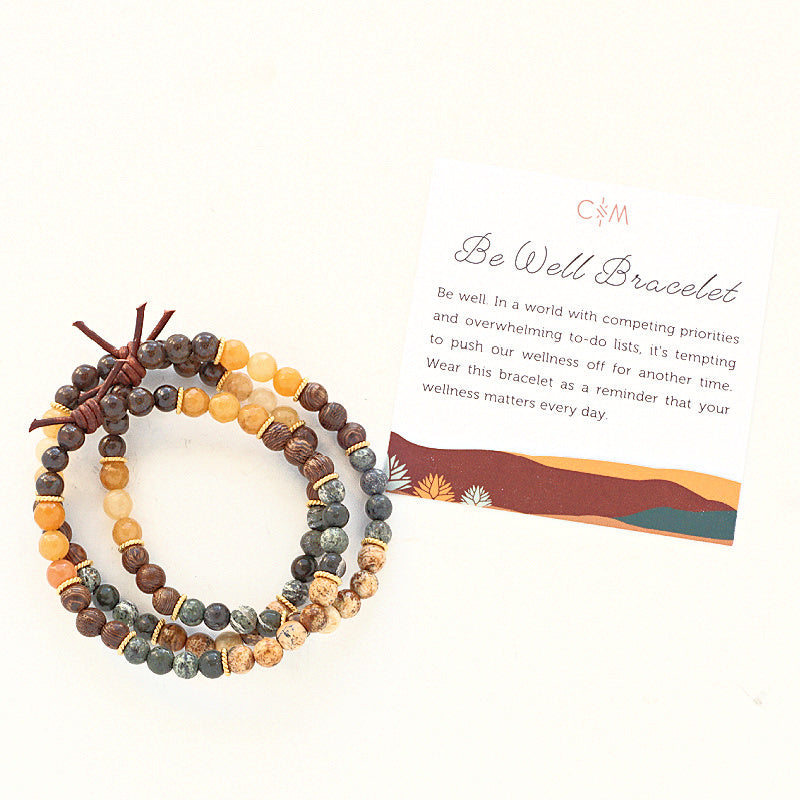 Be Well Mini Bracelet | Essential Oil Diffuser Bracelet
---
Supports military charities
Be well! In a world with competing priorities and overwhelming to-do lists, it's tempting to push your wellness off for another time. Wear this bracelet as a reminder that your wellness matters every day.
If your everyday wellness routine includes essential oils, the Be Well bracelet doubles as a diffuser bracelet. Simply add a drop of your favorite oil or oil blend to the wood beads and rub gently until the oil absorbs. Re-apply when you need an energizing boost to keep you motivated through the afternoon slump, a little extra help focusing on your big project, or a de-stressor to lift your spirits after a long day.
The Be Well Bracelet is a celebration of the 2021 InDependent Wellness Summit and a reminder of your commitment to health and wellness. A portion of the proceeds from this bracelet will be donated to InDependent.
ABOUT THE WELLNESS SUMMIT
The 2021 InDependent Wellness Summit is a virtual event promoting rest and rejuvenation, exclusively for military and first responder spouses - past, present, and future. InDependent provides a week of wellness made easy in the comfort of home or on the go. The goal of IWS21 is for participants to carve out space for themselves, without sacrificing their job, household, or other responsibilities. Providing actionable, practical ways to pamper themselves and tune into personal wellness with no distractions.
HERE'S WHAT PAST SUMMIT ATTENDEES HAD TO SAY
"I adore my bracelet. It is a constant reminder to find peace in the moment. I love putting it on and setting my intention for the day, and looking at it on my wrist throughout the day to remind myself of my intention when life starts getting crazy." -Jenni L.
"When I wear it I feel strength all the way to my heart." - Elizabeth B.
"I love my bracelet!!! The oil fragrance lasts for a couple of days!!" -Jonelle Y.
"I absolutely love it. I wear it every day and the quality is great. The packaging was nice and the note was an extra special touch!" - Rachel D.
BRACELET FEATURES
Gemstones: 6mm Picture Jasper, yellow Jade, Bronzite, and Zebra Jasper
Diffuser beads: 6mm Sennawood beads
Metal accents: Gold-plated copper accent rings
Length: 7 to 7-1/4 inches on stretch cord to easily slip on and off your wrist
Need a larger or smaller size? See FAQs below for more information.
Finished with our signature decorative leather knot
Ready to gift in a beautiful linen pouch with a bracelet meaning card tucked inside.
Instructions to use as a diffuser bracelet are also included.
Made with love in the USA by a military family in our Maryland studio
Sold as a single bracelet
LOOKING FOR SOMETHING ELSE?
Looking for a special everyday reminder to help you thrive during deployment, keep you grounded during a PCS, gift to your military spouse besties, remember a fallen hero, or honor your own Military Mom? Visit our Military Jewelry Collection to find the perfect style for every season and transition of military family life.
CHARLIEMADISON ORIGINALS | EVERYDAY REMINDERS THAT EVERY DAY MATTERS®
What's the difference between a Mini Bracelet and Standard Bracelet?
Mini Bracelets are made with a bit smaller stones than our standard gemstone bracelets. The length is exactly the same (7 to 7-1/4 inches) so they are sized for adults. The Mini Bracelets are a bit daintier and make stacking a breeze!
What if the 7- 7-1/4 inch length won't work for my wrist?
If you need a smaller or larger length, we're happy to customize your bracelet to fit your wrist. Simply add your preferred length to the "Bracelet Sizing" box above before adding the item to your cart or leave us a note in the "Notes to Charliemadison Originals" box at checkout.
If you're not quite sure of your exact size, wrap a tape measure tightly around the wrist you plan to wear your brand new bracelet on and add one inch. Prefer your bracelet to be slightly loose? Add an extra ¼ - ½ inches.
How much will it cost to ship?
First-class USPS shipping within the U.S. and to military addresses is $5.95. Add a second bracelet to start your stack and honor your military family story and shipping is free over $79.
When will my order ship?
We're so excited for you to get your new piece of jewelry (or for it to arrive in the hands of your favorite gal)! Orders ship from our Maryland studio via USPS or UPS within 3-5 business days.
Do you offer returns or exchanges?
We want you to be completely delighted with your Charliemadison purchase. If by chance you're not, simply get in touch at info@charliemadisonoriginals.com within 30 days. We'll be happy to help you with a refund, exchange, or any other questions. Items purchased during sale events cannot be returned.
To ensure the longevity of your jewelry we recommend you:
Remove your jewelry before you shower and swim 
Avoid your jewelry coming in contact with moisture, lotions, perfumes, and hand sanitizer
Store your jewelry in a dry place to avoid tarnishing of metals
Do you have additional questions or concerns?
Contact us at info@charliemadisonoriginals.com and we can help with any questions you have!