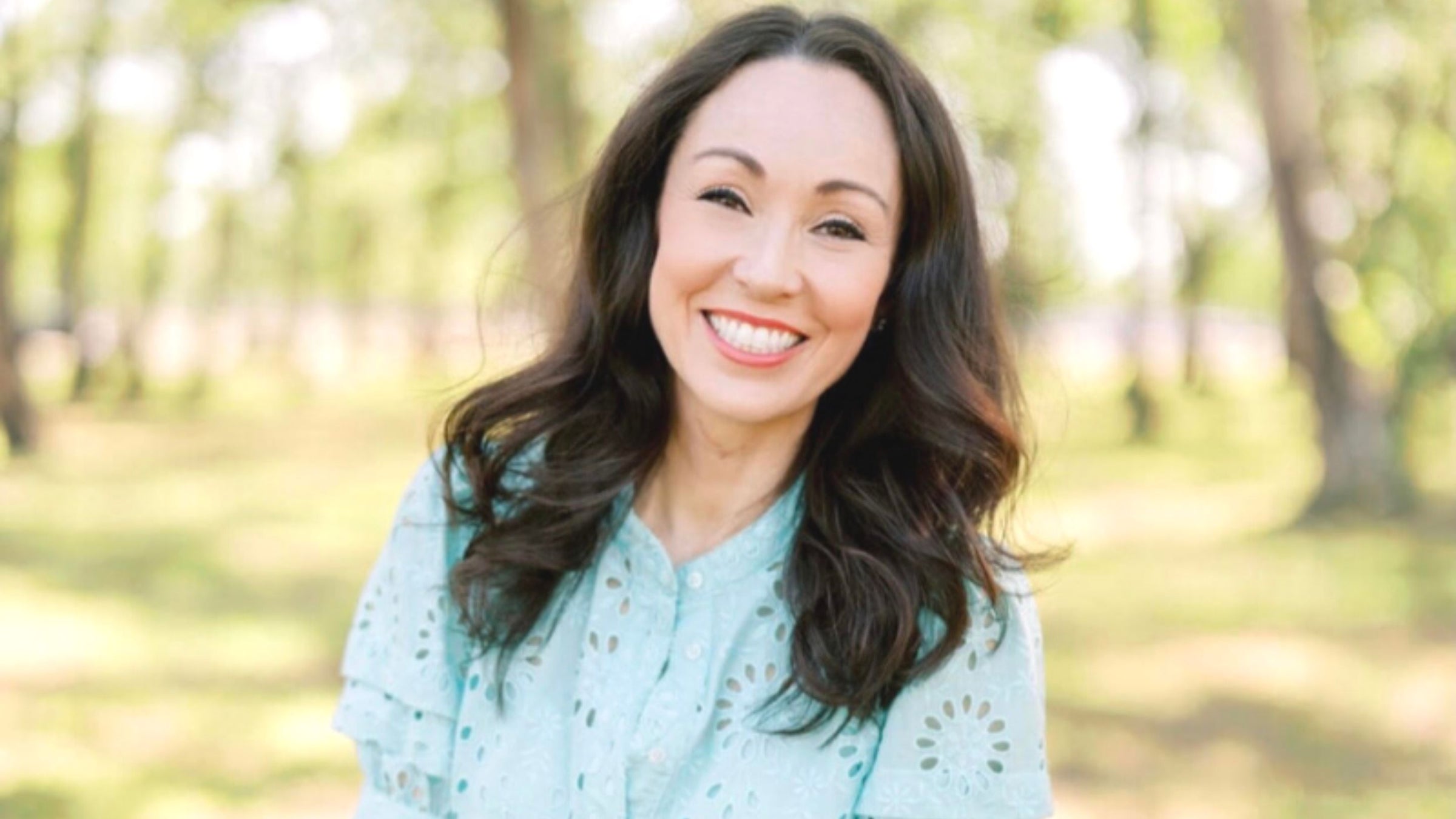 OUR CHAT WITH AMANDA KOCH
There are women who just light up a room - or a virtual room - wherever they go. Amanda Koch is one of those gals. I first met Amanda a few years ago during the InDependent Wellness Summit and was instantly hooked by her positivity, infectious smile, and dedication to women's health and wellness.
Amanda is a veteran Air Force spouse, Mama of two boys, blogger over at My Well Balanced Life, and is a leader with Beautycounter. Her family of four recently settled into their new home after her husband's retirement from the Air Force and Amanda is continuing to share her love of health, wellness, yummy food, and clean beauty with her community. Say hello to my friend Amanda Koch!
GIVE US A BEHIND-THE-SCENES PEEK AT YOU AND YOUR FAMILY – HOW DID YOU BECOME A MILITARY SPOUSE (MILSPOUSE)? WHAT DO YOU DO IN ADDITION TO BEING A MILSPOUSE? AND A FUN FACT ABOUT YOUR MILITARY FAMILY?
Well, I have an arranged marriage thanks to my mother and mother-in-law's conniving ways! Not really, but they plotted for years to introduce the two of us … and it all started with my MIL sending a framed picture of my future husband in uniform for my desk at work.
I didn't know either one of them at the time so it was especially random and hilarious. That picture sat on my desk for an entire year before we even met! And then we were engaged about 8 months later. Let's just say those two women are still really proud of their matchmaking ways and tell everyone about it.
As for what I do aside from being a MilSpouse, I have a blog and business by the name of My Well Balanced Life, where I help busy women live healthier lives with real food, healthy movement, and safer products. I'm a Nutritional Therapy Practitioner, Pilates Master Trainer, and Managing Director with Beautycounter. I wear a lot of hats, but as long as it has to do with healthy living I am ALL IN!
And I'm a mom of two boys, ages 16 and 8. I actually got into the whole healthy living gig because of my battles with infertility and multiple miscarriage -- that's why my kids are so far apart in age. I had 7 miscarriages in between the two of them, which was extremely challenging. But, all the professional things I get to do now are as a result of those really hard years. It's pretty amazing to see how much good continues to  come from those dark days.
And hmmm, as for a fun fact about my family … we have a secret word that we say to each other at events that means "LET'S GET THE HECK OUT OF HERE!" I'll never tell what it is, but if we use it in a sentence we all immediately crack up :)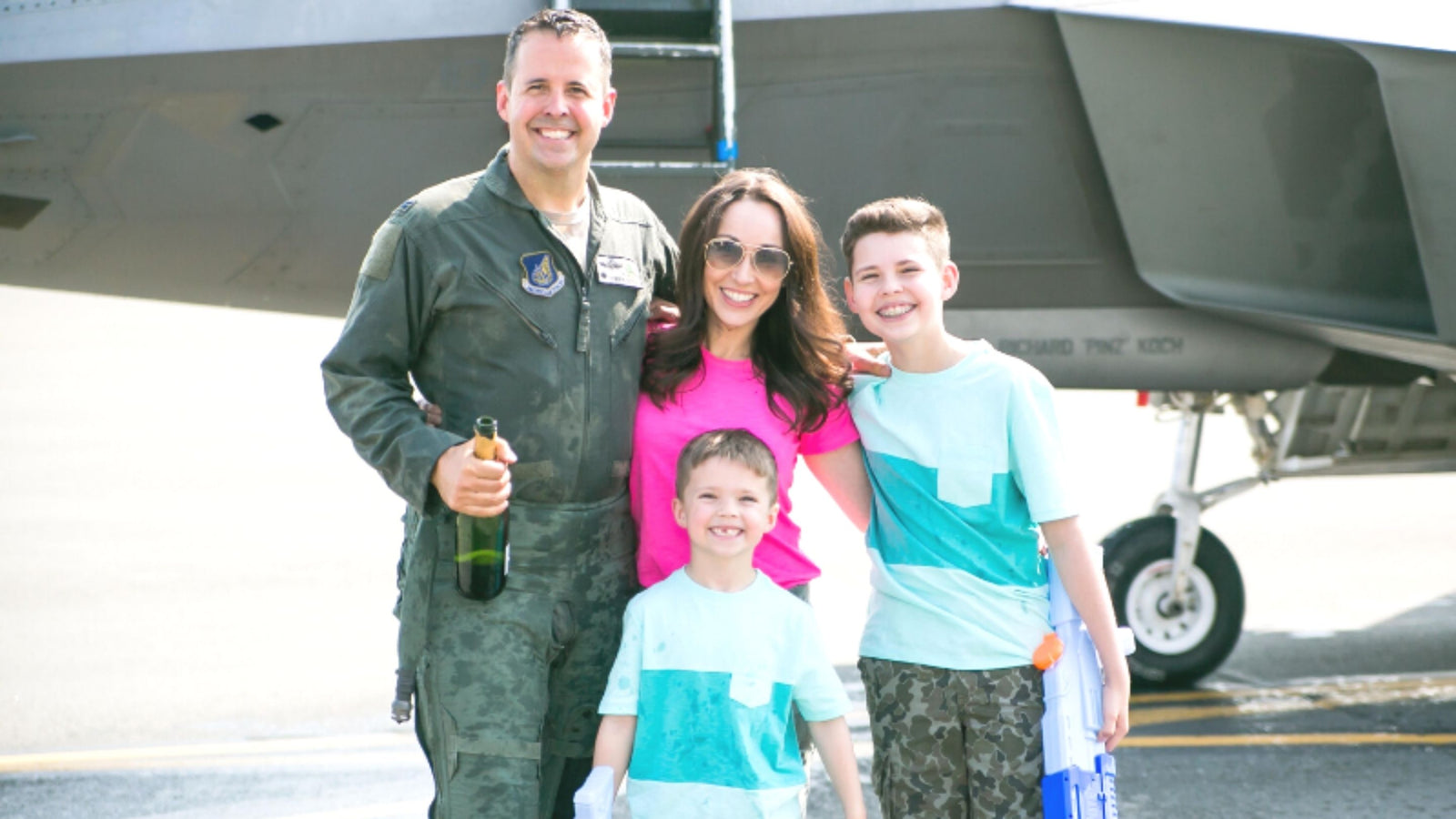 WHICH MILITARY BRANCH DOES YOUR SPOUSE SERVE IN AND FOR HOW MANY YEARS HAS HE SERVED?
Air Force! My husband recently retired after 24 years of active duty service.
WHERE HAS THE MILITARY MOVED YOUR FAMILY OVER THE YEARS? WHICH WAS YOUR FAVORITE DUTY STATION AND WHY?
Even though we have moved a lot, we have technically stayed in the US due to the jets that my husband flew.  Let's see -- Tyndall AFB in Florida, Eglin AFB in Florida, Wright Patterson AFB in Ohio, Langley AFB in Virginia, Maxwell AFB in Alabama, and Joint Base Elmendorf Richardson in Alaska. And a few of those were double assignments.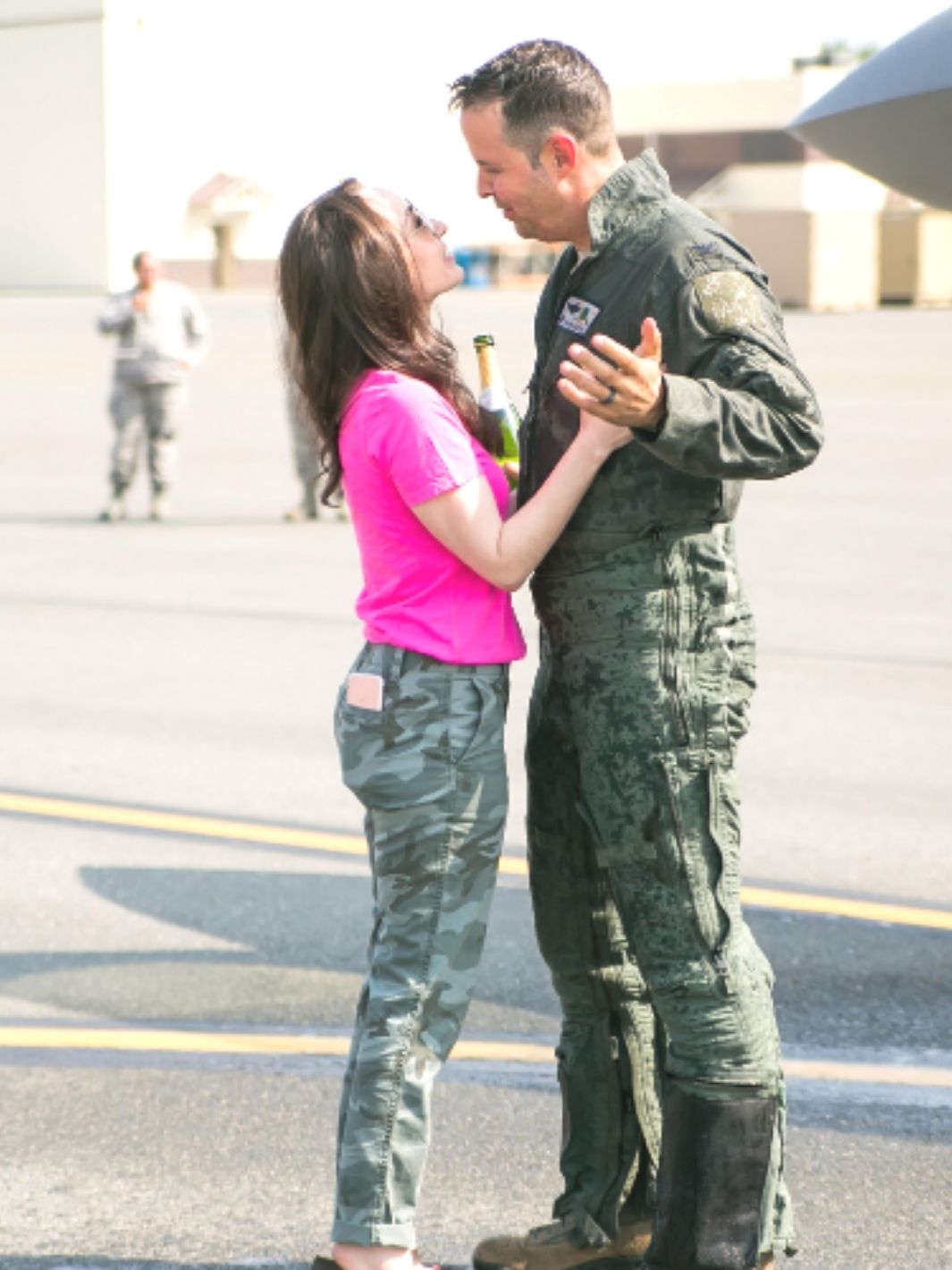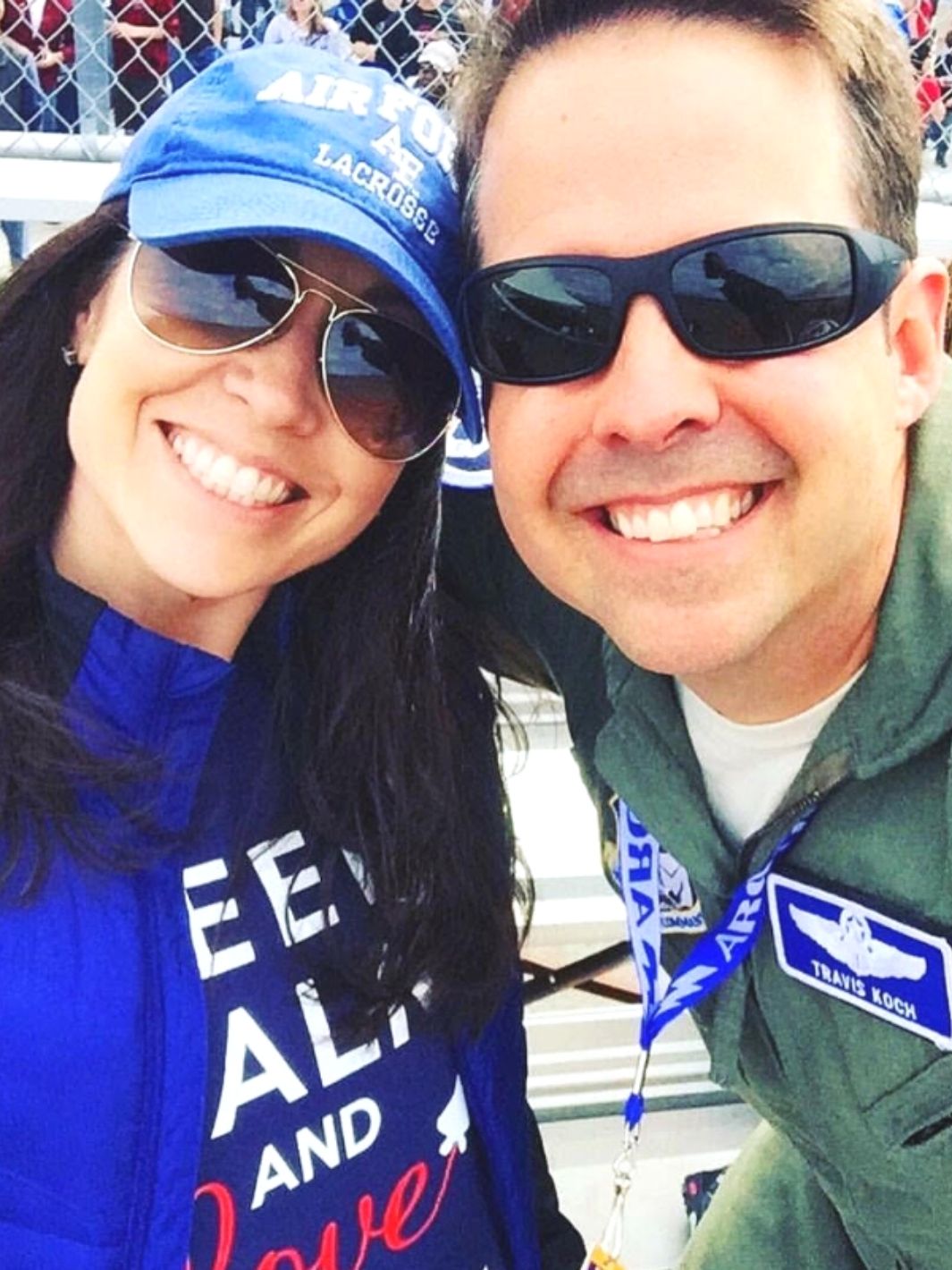 WHAT IS YOUR FAVORITE THING ABOUT BEING A MILITARY SPOUSE? TELL US SOMETHING THAT YOU HAVE LEARNED OR HAS MADE YOU STRONGER BECAUSE YOU ARE A MILSPOUSE?
That's easy! The community is the best part. Hands down. In the early days of being a military spouse, it can seem like a cool girls club that you haven't been invited to … YET. The older and more experienced spouses seem like they have it all together, nothing phases them, and they just go with the flow despite all the craziness.
But before you know it, you're one of those seasoned spouses that can juggle life in ways you never imagined. Military life is incredibly unique -- our nomadic lifestyle is so weird to everyone else, but our community has a special kind of empathy for one another. Whether you need to laugh or cry or vent about stuff like TDY challenges or PCS insanity or just missing your family, there's always someone there who understands.
Being a MilSpouse has made me stronger (and tougher) in countless ways. Constant change and having to navigate things on your own will show you that you're a lot stronger (and a lot more competent) than you realized!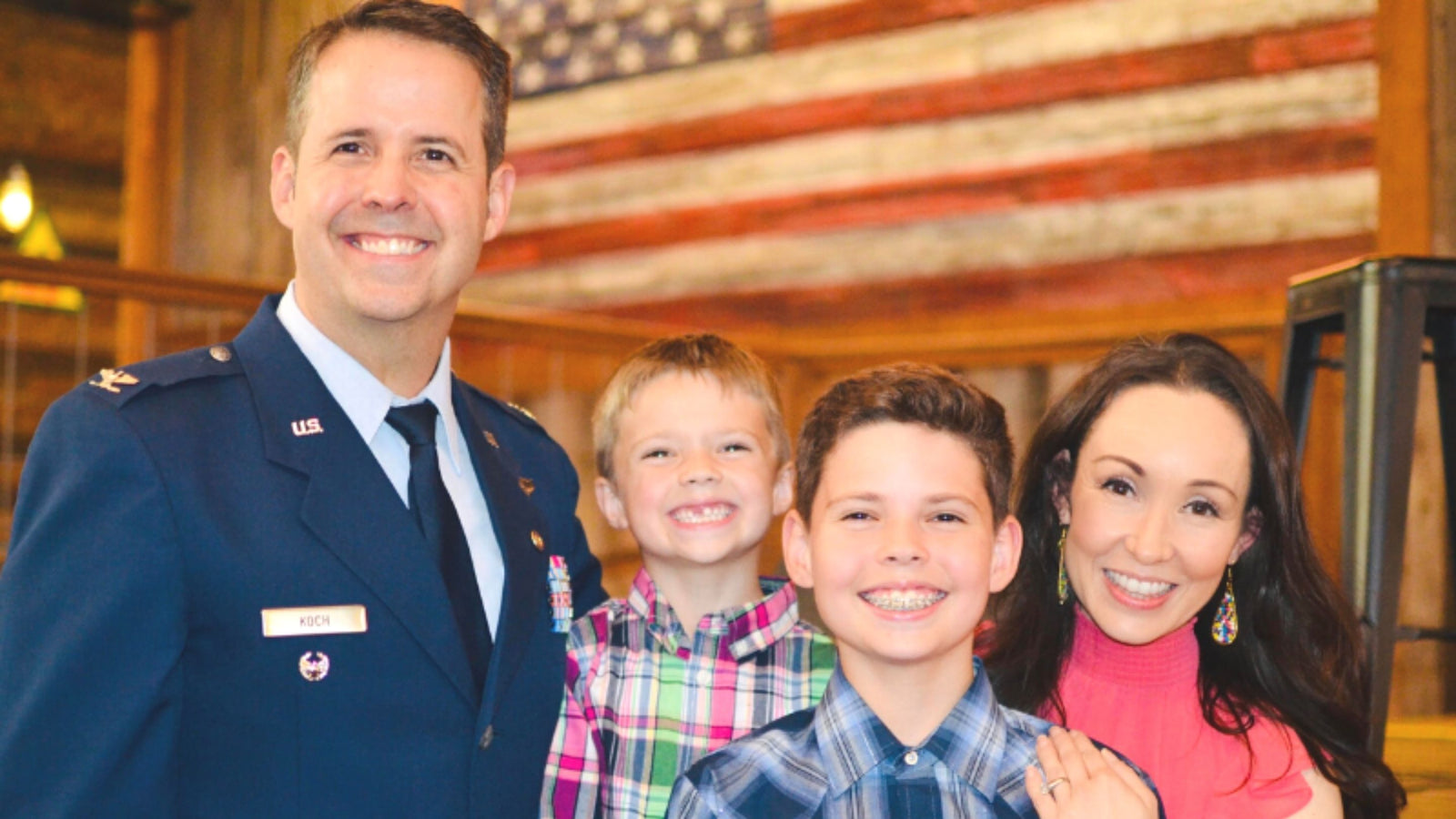 WHO INSPIRES YOU AND WHY?
It might sound silly or cliche, but my little family really inspires me. I feel as if the four of us are a little team that has endured so much together! The moves, the new houses, the new schools, the new jobs, the new EVERYTHING. The losses that have taken our breath away. The disappointments of life that are unavoidable.
The experiences that we have had all over the country, from hurricanes in Florida to bears and moose in Alaska. We have done this crazy military life together and all that comes with it, and we understand how to navigate it together and give each other a whole lot of grace in the process. I'm so grateful for a husband who always makes us his priority, takes charge and gets stuff done, and manages to make us laugh even in the toughest of circumstances.
I'm so blown away by my 16-year-old's ability to just walk into any new situation and somehow make everyone else feel at ease. I'm so grateful for the joy my 8-year-old has in absolutely every situation and how he instantly becomes everyone's best friend. Military life has made all of us better in so many ways!
And even though this lifestyle was never even on my radar, I'm so thankful that this is the life I was given. It's so much better than I ever could have dreamed of or imagined.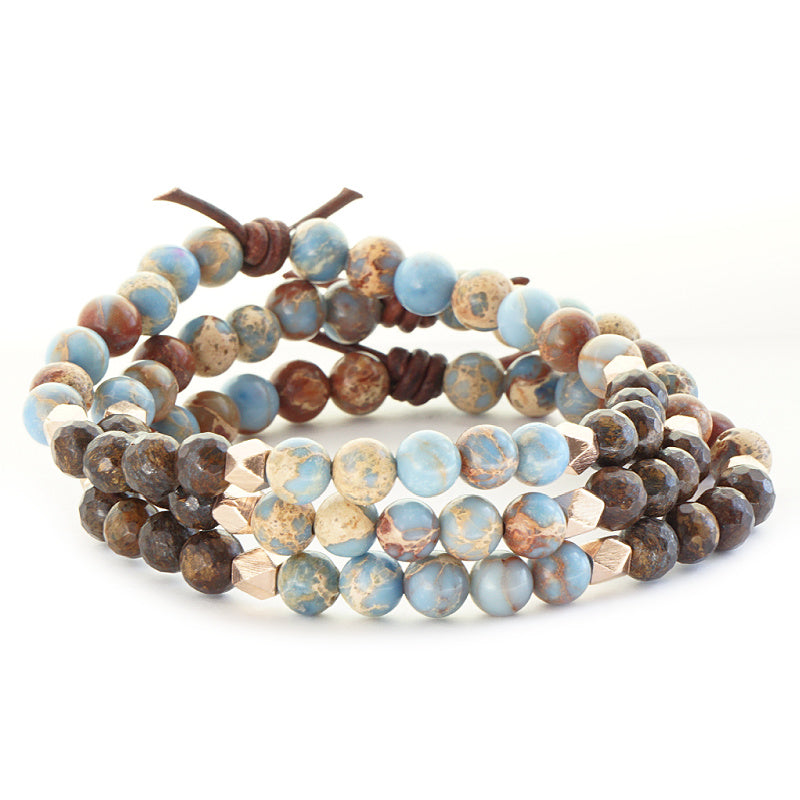 WHICH CHARLIEMADISON EVERYDAY REMINDER DO YOU WEAR ON YOUR WRIST AND WHY DID YOU CHOOSE THAT PARTICULAR BRACELET?
I love the Shine Bracelet, which was a gift from Wendy! As the card reads, "You know that shining a light on someone else will never dim your own light, but will only make you shine brighter." I don't know if I really live that everyday, but it's definitely hashtag goals. And it has turquoise on it which is my favorite color!
WHAT DO YOU DO TO STAY CONNECTED TO WHAT MATTERS MOST, DESPITE THE UNCERTAINTY, FREQUENT MOVES, AND DEPLOYMENTS THAT GO ALONG WITH BEING A MILITARY FAMILY?
Well, my faith is incredibly important to me. When things get hectic and seem to be spiraling out of control, prayer and a little quiet time bring things back into focus. On a personal note, my natural inclination is to withdraw when things get tough. Just basically hide from the world, preferably under a comfy blanket in my pajamas. And I've learned over the years that that is actually a terrible thing to do!
Maintaining relationships, being in community, meeting up with friends … total game changer for my mood, mental health, and outlook on life. With the occasional pity party and junk food binge thrown in! Because hello, this is real life and it's hard. And french fries totally help.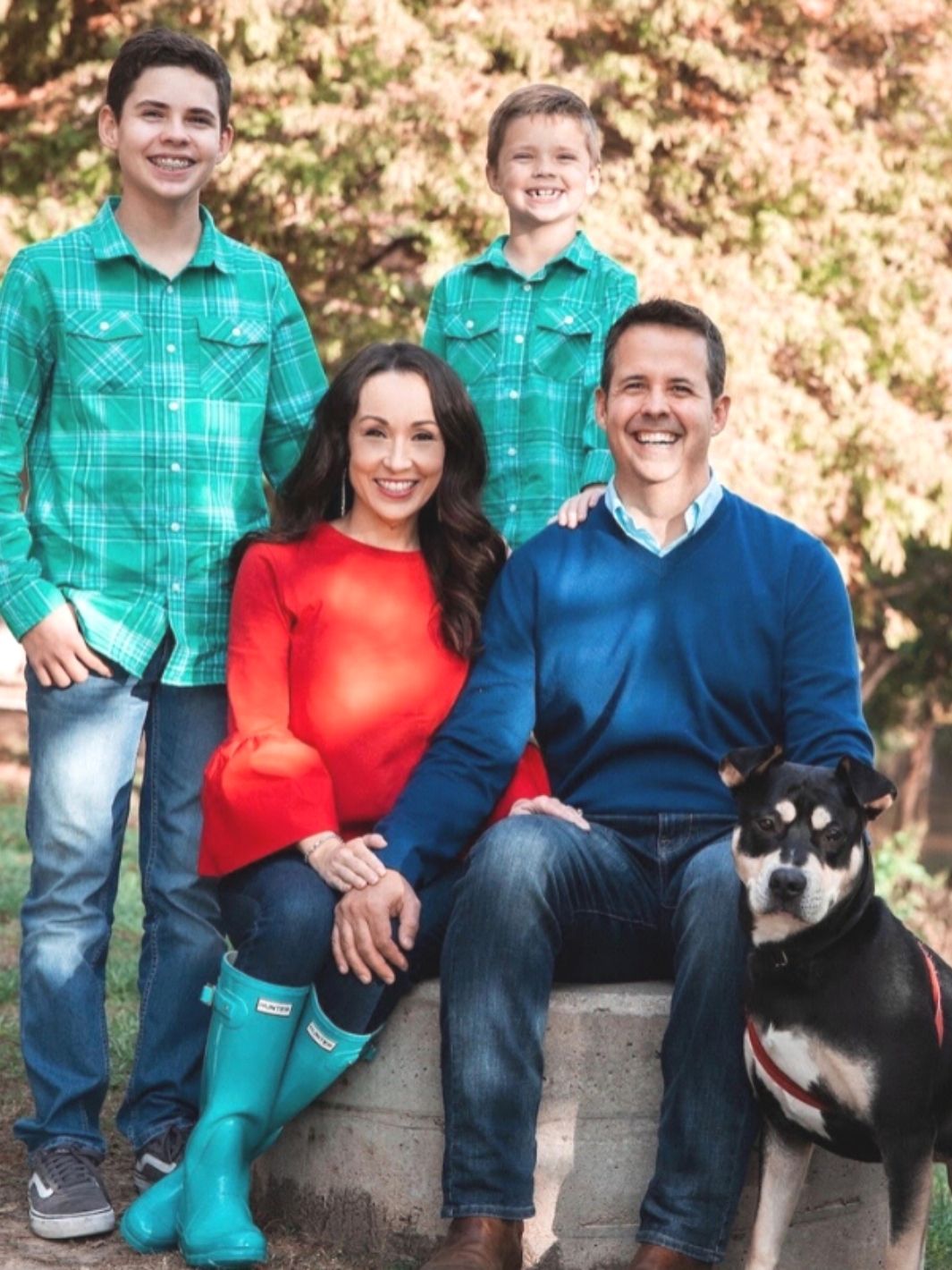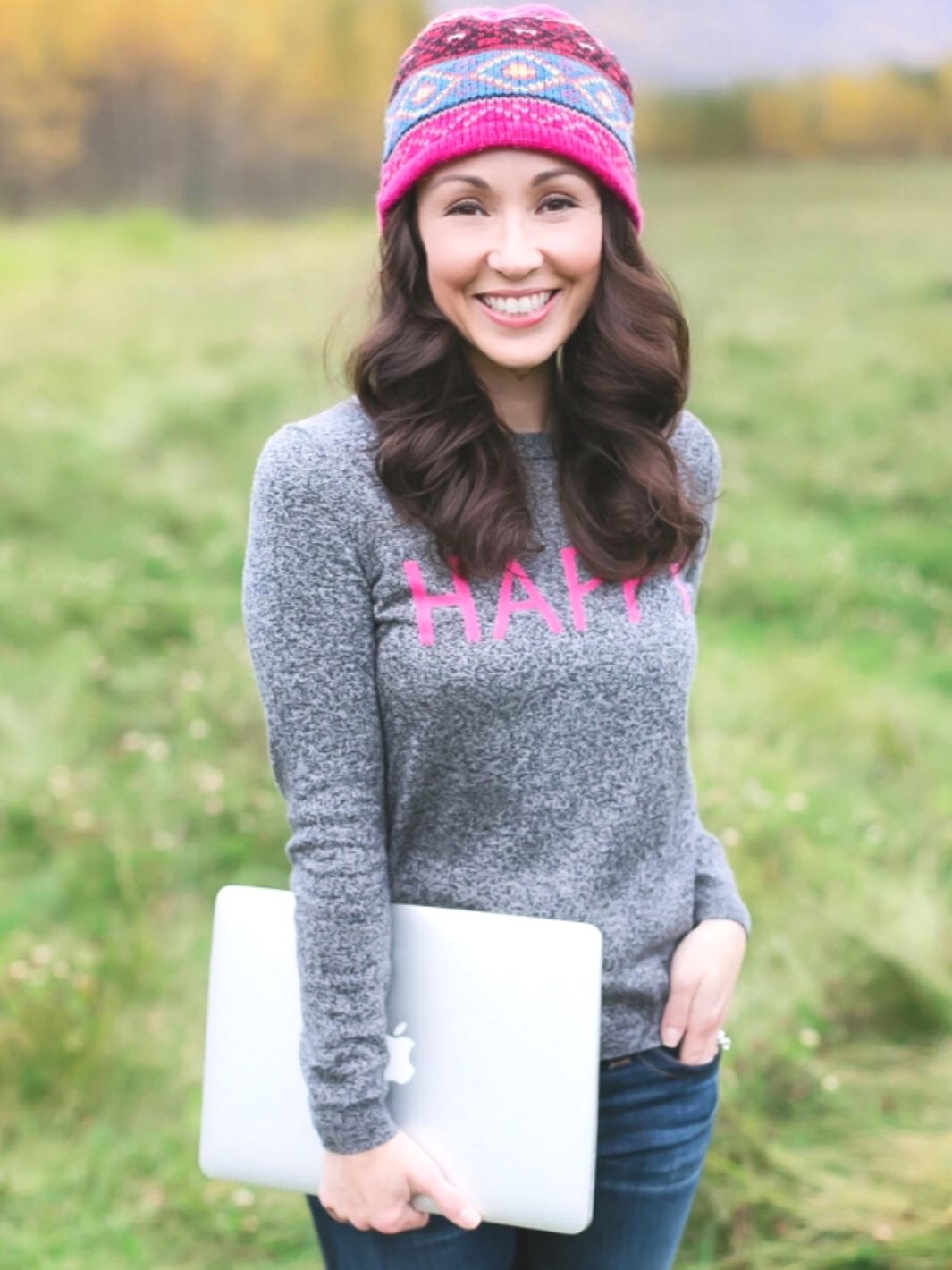 WHAT ADVICE WOULD YOU GIVE TO A FELLOW MILITARY SPOUSE WHO IS STRUGGLING WITH MILITARY LIFE OR DEPLOYMENT?
Oh man, it's really hard! Don't try to pretend it's not crazy challenging, and let yourself be vulnerable. It's ok to not be ok. When I was a younger spouse and struggling with the newness of military life, I wouldn't have dreamed of admitting it to anyone. And even when I was a little older but dealing with a lot of health issues to include hormonal imbalance, anxiety, depression, chronic pain, infertility, and multiple miscarriage, I tried really hard to make it seem like I had it all together. And honestly that just made everything worse -- my health, my marriage, my relationships, all of it.
Once my husband started stepping in to command positions and I was responsible for leading spouse groups, I made a point to show my flaws and be honest about challenges. And while the longer you are in the military world the more accustomed you are to the unique battles, just remember that everyone struggles.
No one is crushing it.  Be real and honest and vulnerable. The best things happen when you let down those walls. Because trust me, there is another milspouse who knows exactly how you are feeling and what you are going through -- and finding those people that really get it? It's an absolute lifesaver.
WE HAPPEN TO BE QUOTE LOVERS AROUND HERE – CAN YOU SHARE A FAVORITE QUOTE THAT KEEPS YOU INSPIRED?
"Difficult roads often lead to beautiful destinations." ~Zig Ziglar
WHERE CAN OUR READERS FIND YOU ONLINE?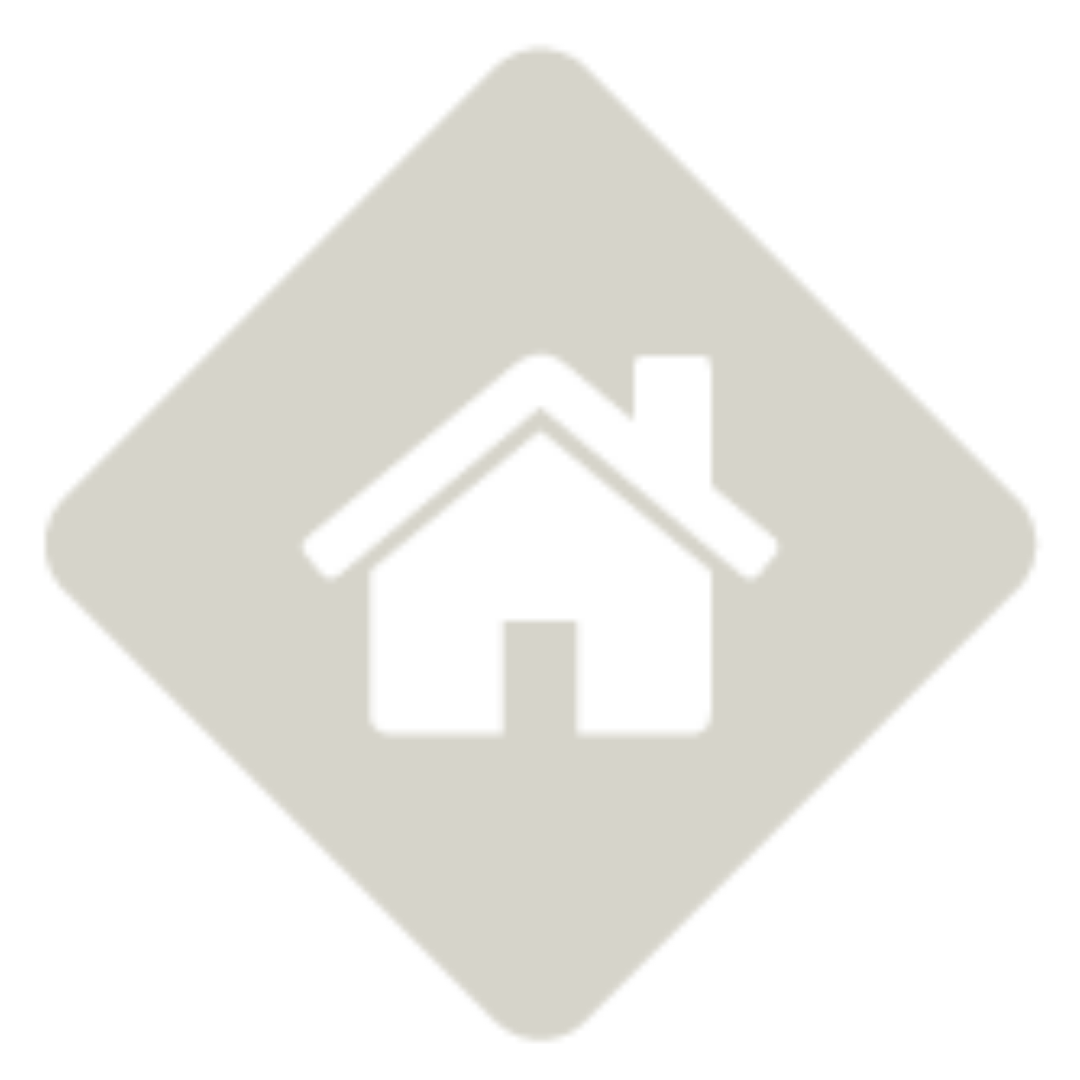 Website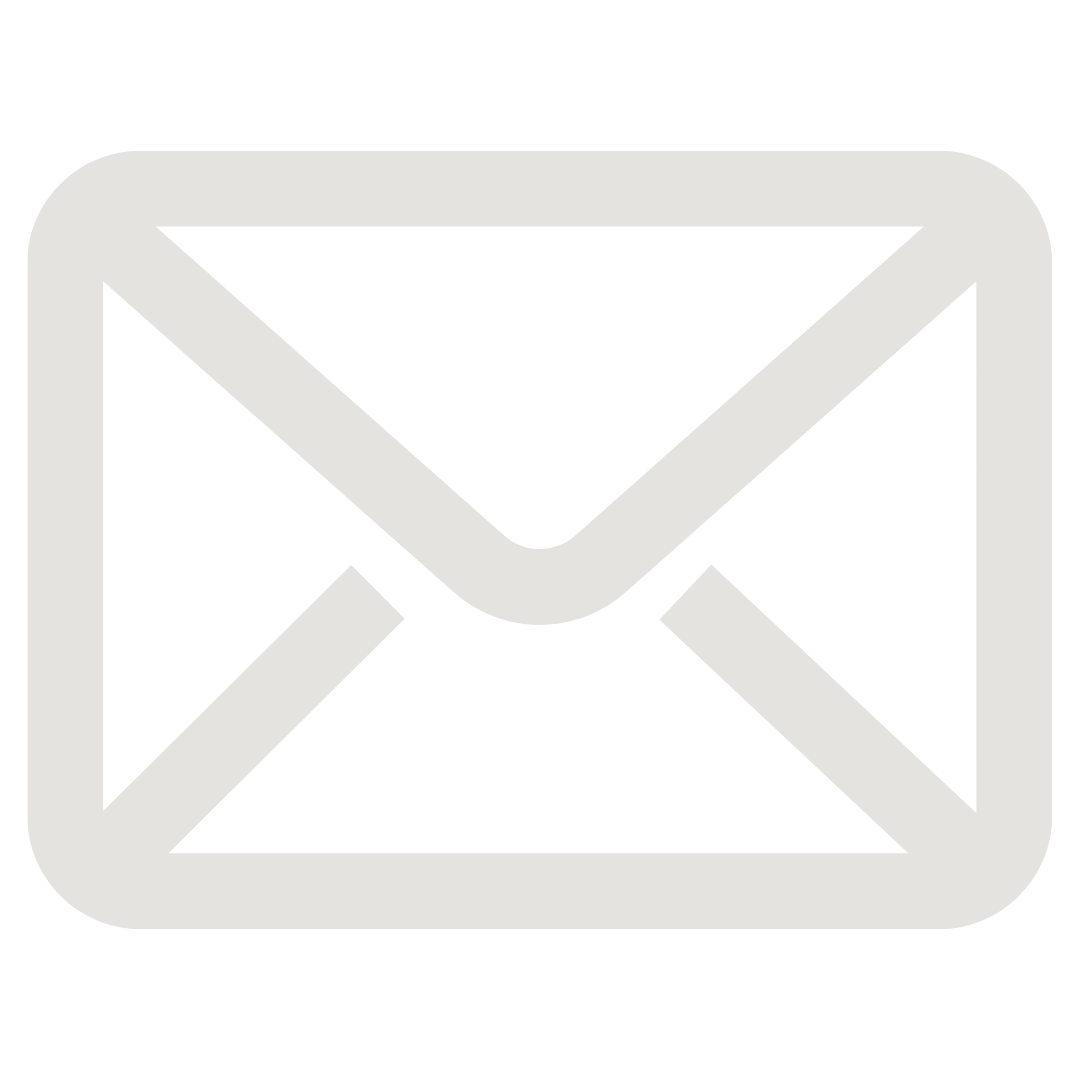 Email
mywellbalancedlife@gmail.com
Meet a milspouse Series
Shining a light on the military spouse community
Get inspired by the amazing things these military spouses are doing to support military families around the world