#CMOdayinthelife SOCIAL MEDIA CHALLENGE
How many times have you scrolled through social media and felt like everyone but you is living their best life? Yep, us too….. the crazy comparison game is real. But we're going to change that with the #CMOdayinthelife challenge!
No comparison games, no filters, no shame - this simple challenge is your opportunity for connection, inspiration, and….. don't forget the fun. You'll be surprised to learn that we all have more in common than you think.
Are you ready? Time to shine a light on all the things that make you the incredible person you already are! 

FOLLOW CHARLIEMADISON ON INSTAGRAM
1- During the month of September, we will share a quick and easy daily prompt/question on the Charliemadison Instagram and Facebook pages. Get a peek at each day's topic below. We will also send a daily email reminder if you're like us and tend to forget things easily :-)
2- Using the daily prompts, post your reply on your Instagram and/or Facebook page. You can use the graphics we created for you or post your own photo.  Whatever is easiest for you - this is meant to be fun! 
3- Post every day, once a week, or choose the prompts that excite you the most. No rules, just fun!
4- This is most important - tag your post with our challenge hashtag: #CMOdayinthelife
5- Be sure to follow the challenge hashtag (#CMOdayinthelife) on Instagram to see what your fellow challenge participants are sharing. Take a minute or two to scroll through all the posts and if something inspires you, leave a comment - it will make someone's day, I promise!
6- Win a $50 Charliemadison Gift Certificate! We'll choose two winners at random from the posts tagged with #CMOdayinthelife at the end of the challenge.

CHALLENGE DO'S AND DON'TS
1- Don't stress yourself with an "all or nothing" attitude. You can post every day, once a week, or just choose the prompts that inspire you. You can even play catch-up if you miss one - we won't tell ;-)
2- Do share the challenge with your friends. Encourage them to join you in the challenge so you can get to know them better - you might even discover something new.
3- Don't let the "perfection" monster get in your head. Perfect photos don't exist and besides, perfection is boring. We want to see you as your fabulous everyday self.
4- Do make your Instagram account public. This isn't an absolute must - we want you to enjoy the challenge and connect with your friends, even if your account is private. However, your posts won't appear within the hashtag (#CMOdayinthelife). Gift certificate winners will be chosen from the public posts.
5- Do use the graphics we created for the challenge -  they're meant for you to use if you'd like. You can save them right to your phone to make posting extra easy.
6- Do follow the #CMOdayinthelife hashtag and @charliemadisonoriginals on Instagram.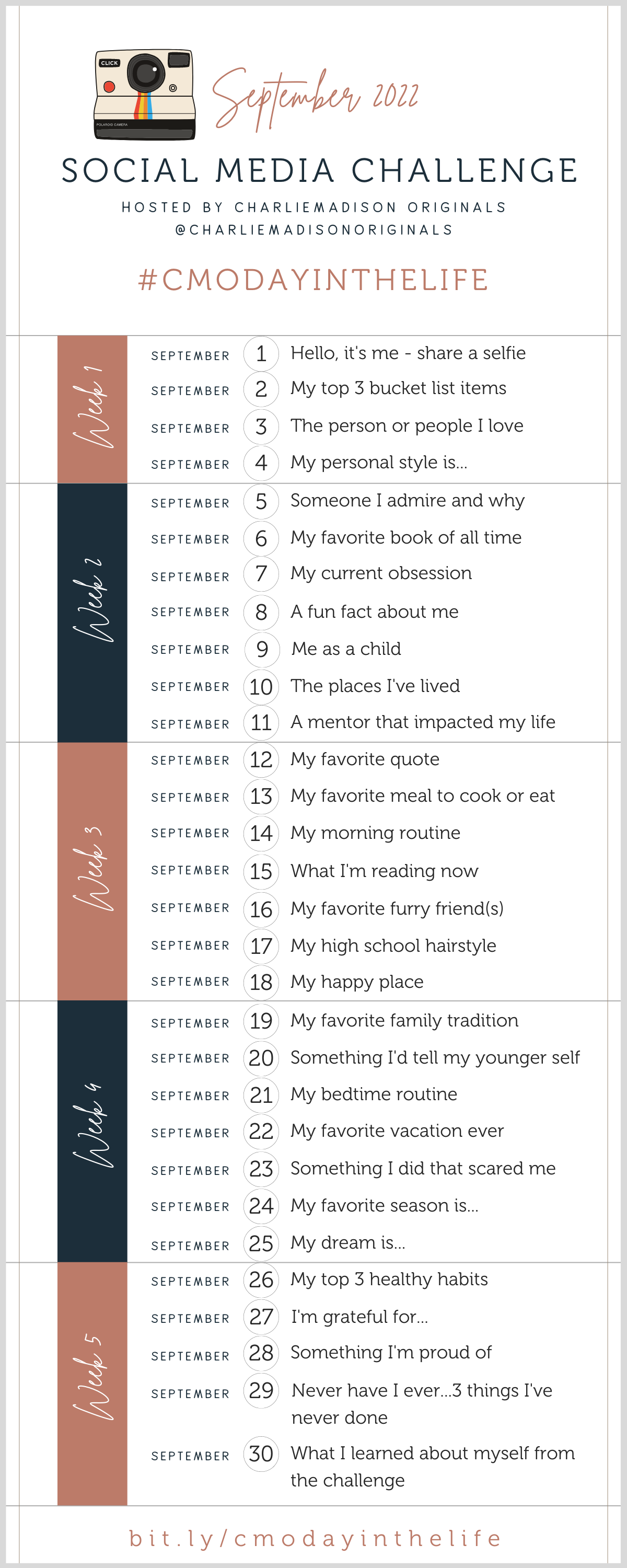 Daily Prompt Images
To save each image on your smartphone, tap and hold the image until a menu pops up. Choose the option to save image or add image to your photo collection. Then simply upload the image to Instagram or Facebook from your smartphone.