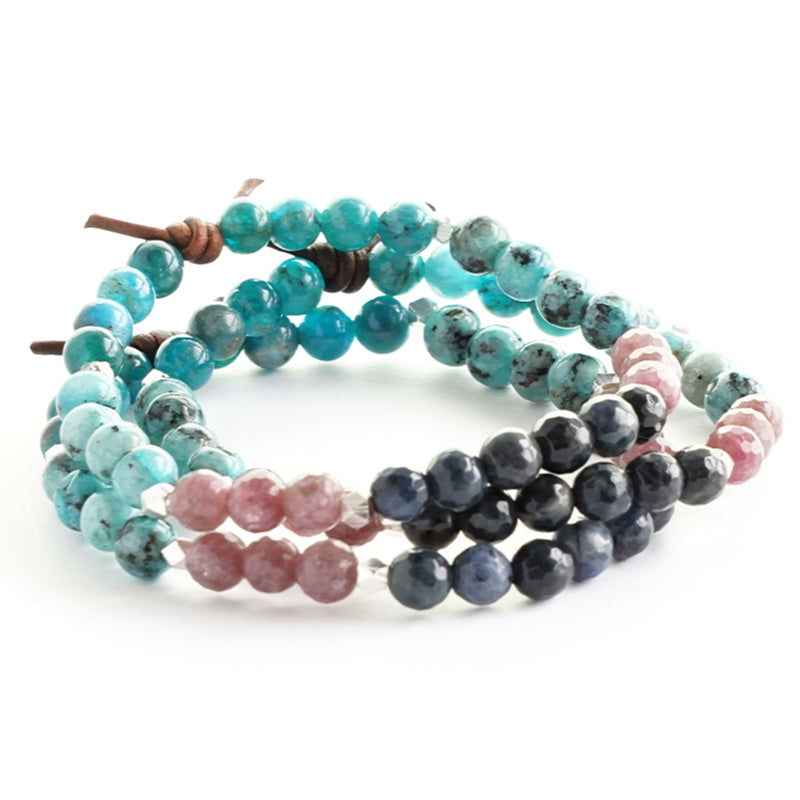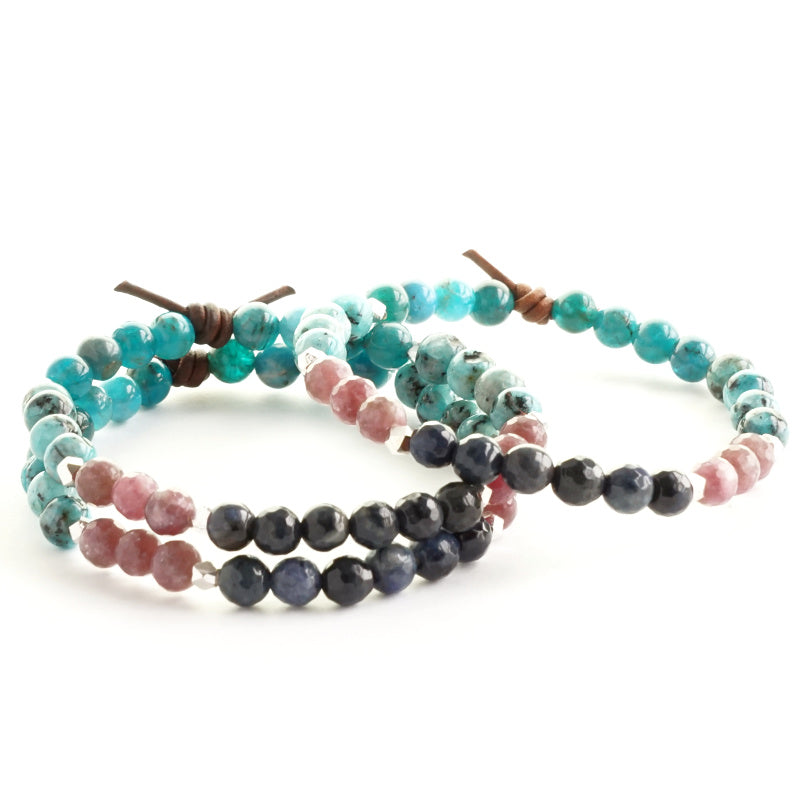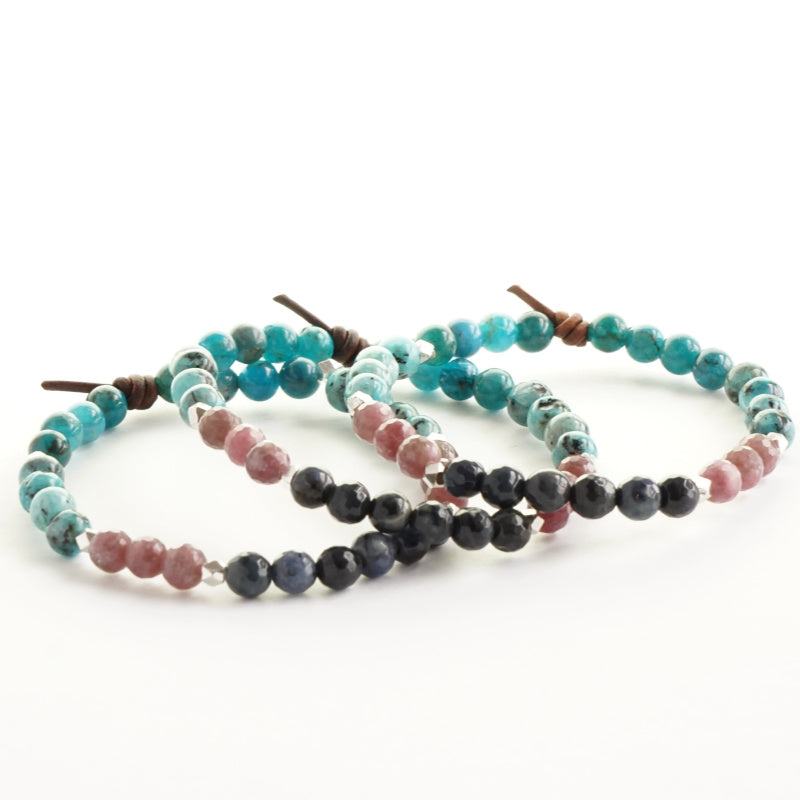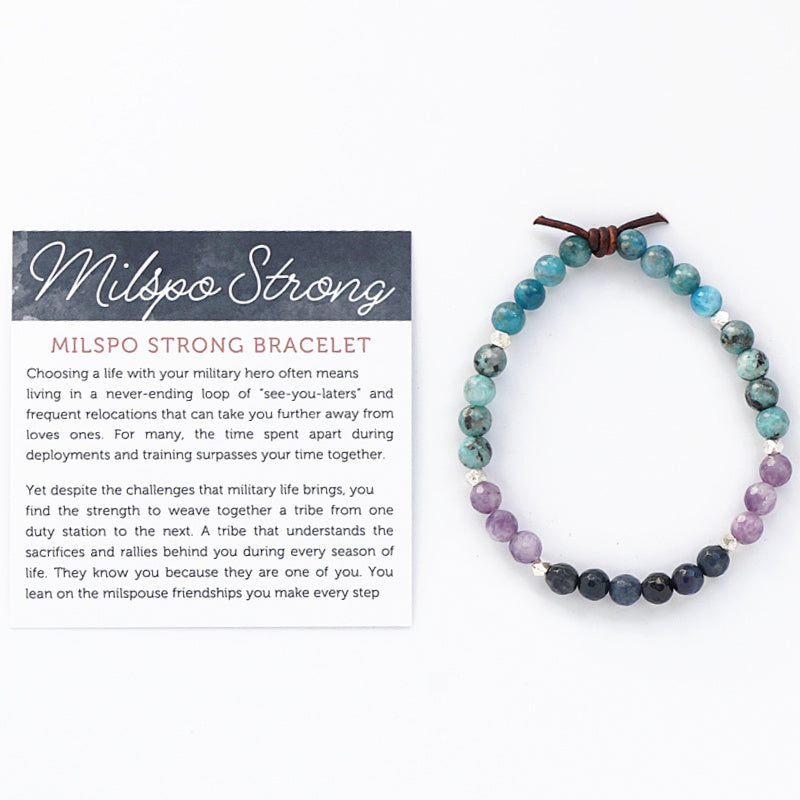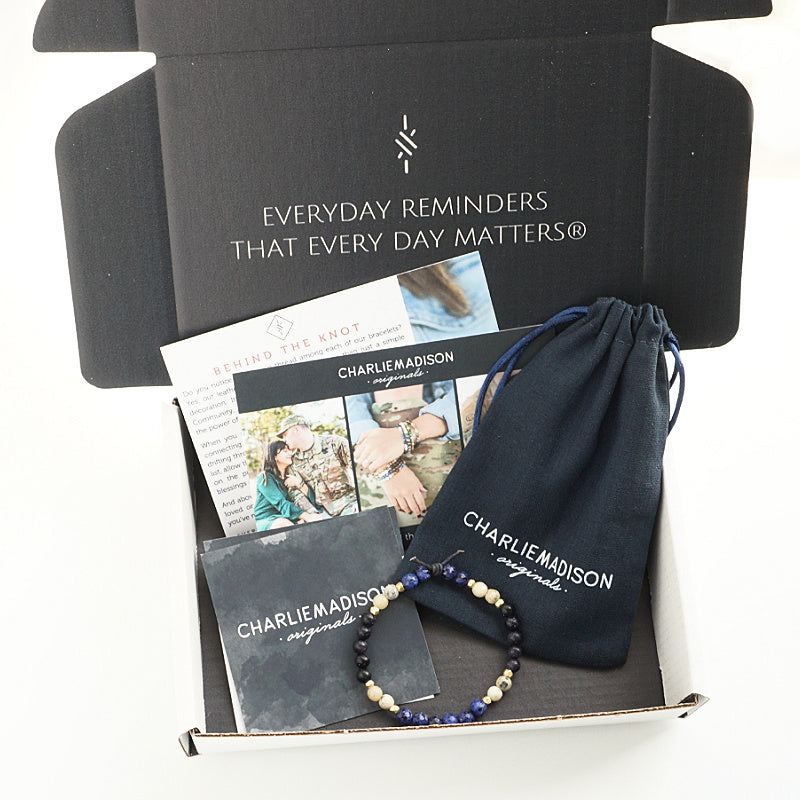 Milspo Strong Mini Bracelet | Military Spouse Bracelet
---
Supports military charities
Milspo Strong Mini Bracelet.A meaningful military spouse bracelet that honors the love and strength of your milspouse tribe - they know you because they are one of you. An everyday reminder that you are not alone on this journey, no matter where the military sends you.
BRACELET MEANING
Choosing a life with your military hero often means living in a never-ending loop of "see-you-laters" and frequent relocations that can take you further away from loves ones. For many, the time spent apart during deployments and training surpasses your time together.
Yet despite the challenges that military life brings, you find the strength to weave together a tribe from one duty station to the next. A tribe that understands the sacrifices and rallies behind you during every season of life. They know you because they are one of you. You lean on the milspouse friendships you make every step of the way - celebrating the milestones, sharing tears over the disappointments, and forging bonds that last a lifetime.
Wear this bracelet as your everyday reminder that you are not alone on this journey. The common threads that weave through your life stories give you the courage to face the next chapter of your military family journey. Your milspouse tribe stands with you, helping you to dig deep and embrace change – they are your source of strength. You're not just strong – you're Milspo Strong!
BRACELET FEATURES
Gemstones: 6mm Dumortierite, Apatite, Lepidolite, and Jade
Metal accents: Sterling silver plated copper nuggets
Length: 7 to 7-1/4 inches on stretch cord to easily slip on and off your wrist
Need a larger or smaller size? See FAQs below for more information.
Finished with our signature decorative leather knot
Ready to gift in a beautiful linen pouch with a bracelet meaning card tucked inside
Made with love in the USA by a military family in our Maryland studio
Sold as a single bracelet
LOOKING FOR SOMETHING ELSE?
Looking for a special everyday reminder to help you thrive during deployment, keep you grounded during a PCS, gift to your military spouse besties, remember a fallen hero, or honor your own Military Mom? Visit our Military Jewelry Collection to find the perfect style for every season and transition of military family life.
CHARLIEMADISON ORIGINALS | EVERYDAY REMINDERS THAT EVERY DAY MATTERS®
What's the difference between a Mini Bracelet and Standard Bracelet?
Mini Bracelets are made with a bit smaller stones than our standard gemstone bracelets. The length is exactly the same (7 to 7-1/4 inches) so they are sized for adults. The Mini Bracelets are a bit daintier and make stacking a breeze!
What if the 7- 7-1/4 inch length won't work for my wrist?
If you need a smaller or larger length, we're happy to customize your bracelet to fit your wrist. Simply add your preferred length to the "Bracelet Sizing" box above before adding the item to your cart or leave us a note in the "Notes to Charliemadison Originals" box at checkout.
If you're not quite sure of your exact size, wrap a tape measure tightly around the wrist you plan to wear your brand new bracelet on and add one inch. Prefer your bracelet to be slightly loose? Add an extra ¼ - ½ inches.
How much will it cost to ship?
First-class USPS shipping within the U.S. and to military addresses is $5.95. Add a second bracelet to start your stack and honor your military family story and shipping is free over $79.
When will my order ship?
We're so excited for you to get your new piece of jewelry (or for it to arrive in the hands of your favorite gal)! Orders ship from our Maryland studio via USPS or UPS within 3-5 business days.
Do you offer returns or exchanges?
We want you to be completely delighted with your Charliemadison purchase. If by chance you're not, simply get in touch at info@charliemadisonoriginals.com within 30 days. We'll be happy to help you with a refund, exchange, or any other questions. Items purchased during sale events cannot be returned.
To ensure the longevity of your jewelry we recommend you:
Remove your jewelry before you shower and swim 
Avoid your jewelry coming in contact with moisture, lotions, perfumes, and hand sanitizer
Store your jewelry in a dry place to avoid tarnishing of metals
Do you have additional questions or concerns?
Contact us at info@charliemadisonoriginals.com and we can help with any questions you have!