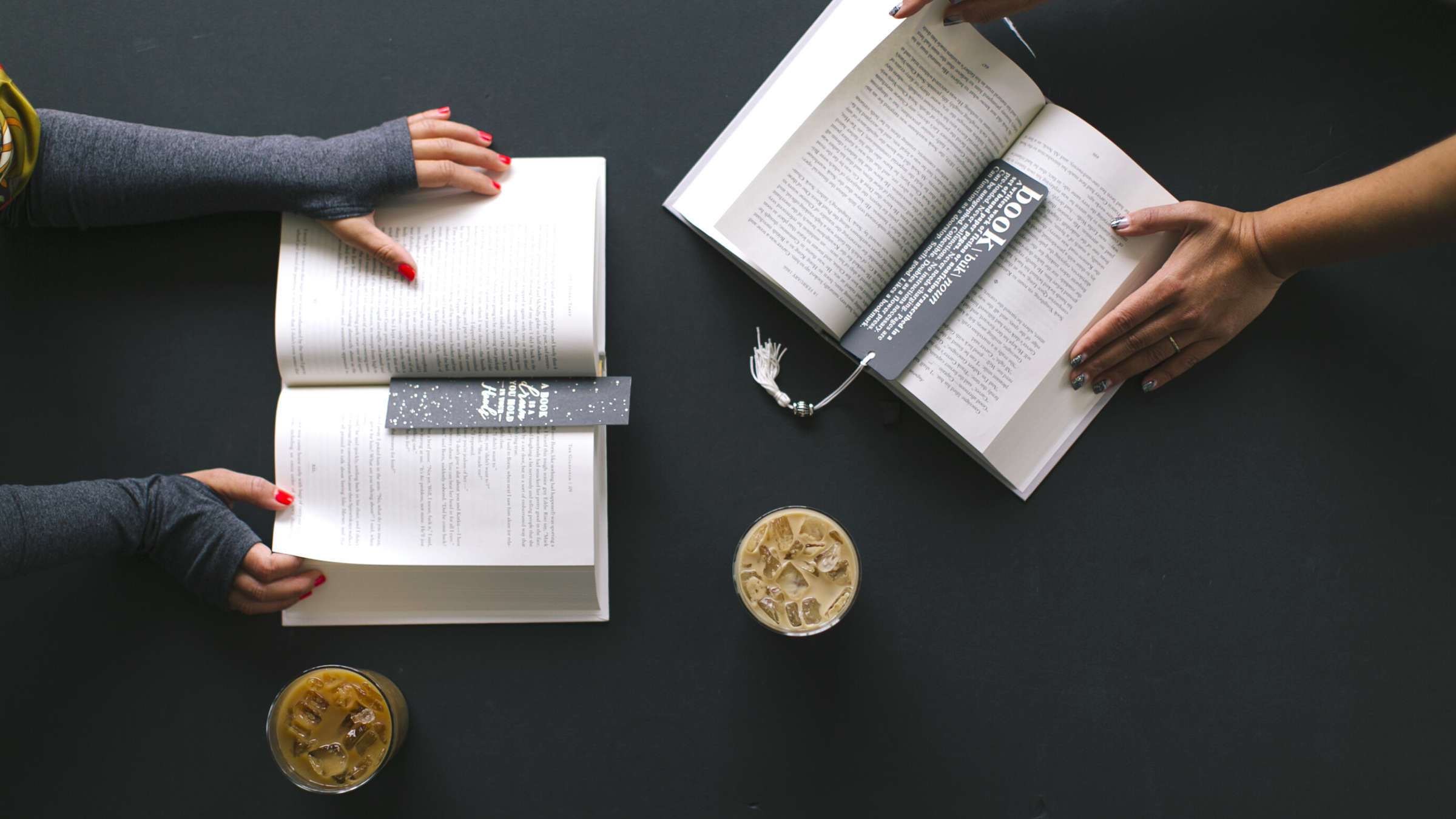 10 Best Books
For Spooky Reading Season
October 2023 Book Recommendations from the Charliemadison book club
Ghosts, haunted houses, and things that go bump in the night - who doesn't love a great spooky read when fall rolls around? I wouldn't dream of saving them only for this season - I  love reading them all year long, but Halloween nudges us to reach for some spookier reads. From my spooky reading list to yours, here are my top 10 favorite books for spooky reading season. 
I hope you find something that makes you want to rush over to your local library or bookstore and add to your TBR (to be read) list!
XO, Wendy
THE STROKE OF WINTER
AUTHOR: WENDY WEBB
In the tourist town of Wharton, on the coast of Lake Superior, Tess Bell is renovating her old family home into a bed-and-breakfast during the icy dead of winter…
As the house's restoration commences, a shuttered art studio is revealed. Inside are paintings Tess's late grandfather, beloved and celebrated artist Sebastian Bell, hid away for generations. But these appear to be the works of a twisted mind, almost unrecognizable as paintings she and others familiar with his art would expect. The sinister canvases raise disturbing questions for Tess, sparking nightmares and igniting in her an obsession to unearth the truth around their origins. (From the publisher)
Find on Amazon
THE DEATH OF MRS. WESTAWAY
AUTHOR: RUTH WARE
On a day that begins like any other, Hal receives a mysterious letter bequeathing her a substantial inheritance. She realizes very quickly that the letter was sent to the wrong person—but also that the cold-reading skills she's honed as a tarot card reader might help her claim the money.
Soon, Hal finds herself at the funeral of the deceased…where it dawns on her that there is something very, very wrong about this strange situation and the inheritance at the center of it. (From the publisher)
Find on Amazon
THE LAST ONE
AUTHOR: WILL DEAN
When Caz steps onboard the exclusive cruise liner RMS Atlantica, it's the start of a vacation of a lifetime with her new love, Pete. On their first night they explore the ship, eat, dance, make friends, but when Caz wakes the next morning, Pete is missing.
And when she walks out into the corridor, all the cabin doors are open. To her horror, she soon realizes that the ship is completely empty. No passengers, no crew, nobody but her.
The Atlantica is steaming into the mid-Atlantic and Caz is the only person on board. But that's just the beginning of the terrifying journey she finds herself trapped on in this white-knuckled mystery. (From the publisher)
Find on Amazon
THE HOUSE ACROSS THE LAKE
AUTHOR: RILEY SAGER
Casey Fletcher, a recently widowed actress trying to escape a streak of bad press, has retreated to the peace and quiet of her family's lake house in Vermont. Armed with a pair of binoculars and several bottles of bourbon, she passes the time watching Tom and Katherine Royce, the glamorous couple living in the house across the lake. They make for good viewing—a tech innovator, Tom is powerful; and a former model, Katherine is gorgeous.
One day on the lake, Casey saves Katherine from drowning, and the two strike up a budding friendship. But the more they get to know each other—and the longer Casey watches—it becomes clear that Katherine and Tom's marriage isn't as perfect as it appears. When Katherine suddenly vanishes, Casey immediately suspects Tom of foul play. What she doesn't realize is that there's more to the story than meets the eye—and that shocking secrets can lurk beneath the most placid of surfaces. (From the publisher)
Find on Amazon
THE HAUNTING OF BRYNN WILDER
AUTHOR: WENDY WEBB
After a devastating loss, Brynn Wilder escapes to Wharton, a tourist town on Lake Superior, to reset. Checking into a quaint boardinghouse for the summer, she hopes to put her life into perspective. In her fellow lodgers, she finds a friendly company of strangers: the frail Alice, cared for by a married couple with a heartbreaking story of their own; LuAnn, the eccentric and lovable owner of the inn; and Dominic, an unsettlingly handsome man inked from head to toe in mesmerizing tattoos.
But in this inviting refuge, where a century of souls has passed, a mystery begins to swirl. Alice knows things about Brynn, about all of them, that she shouldn't. Bad dreams and night whispers lure Brynn to a shuttered room at the end of the hall, a room still heavy with a recent death. And now she's become irresistibly drawn to Dominic—even in the shadow of rumors that wherever he goes, suspicious death follows. (From the publisher)
Find on Amazon
DAISY DARKER
AUTHOR: ALICE FEENEY
Daisy Darker was born with a broken heart. Now after years of avoiding each other, Daisy Darker's entire family is assembling for Nana's 80th birthday party in her crumbling gothic house on a tiny tidal island. The family arrives, each of them harboring secrets. When the tide comes in, they will be cut off from the rest of the world for eight hours.
But at the stroke of midnight, as a storm rages, Nana is found dead. And an hour later, the next family member follows…
Trapped on an island where someone is killing them one by one, the Darkers must reckon with their present mystery as well as their past secrets, before the tide goes out and all is revealed. (From the publisher)
Find on Amazon
THE HAUNTING OF MADDY CLARE
AUTHOR: SIMONE ST. JAMES
1920s England. Sarah Piper's lonely, threadbare existence changes when her temporary agency sends her to assist an obsessed ghost hunter. Alistair Gellis—rich, handsome, and scarred by World War I—has been summoned to investigate the spirit of the nineteen-year-old maid Maddy Clare, who is said to haunt the barn where she committed suicide.
Maddy hated men in life, and she will not speak to them in death. But Sarah is unprepared to confront an angry ghost—real or imagined—on her own. She's even less prepared for the arrival of Alistair's associate, rough, unsettling Matthew Ryder, also a veteran of the trenches, whose scars go deeper than Sarah can reach.
Soon, Sarah is caught up in a desperate struggle. For Maddy's ghost is no hoax—she's real, she's angry, and she has powers that defy all reason. Now, Sarah and Matthew must discover who Maddy was, where she came from, and what is driving her desire for vengeance—before she destroys them all.... (From the publisher)
Find on Amazon
THE THIRTEENTH TALE
AUTHOR: DIANE SETTERFIELD
Reclusive author Vida Winter, famous for her collection of twelve enchanting stories, has spent the past six decades penning a series of alternate lives for herself. Now old and ailing, she is ready to reveal the truth about her extraordinary existence and the violent and tragic past she has kept secret for so long.
Calling on Margaret Lea, a young biographer troubled by her own painful history, Vida disinters the life she meant to bury for good. Margaret is mesmerized by the author's tale of gothic strangeness—featuring the beautiful and willful Isabelle, the feral twins Adeline and Emmeline, a ghost, a governess, a topiary garden and a devastating fire. Together, Margaret and Vida confront the ghosts that have haunted them while becoming, finally, transformed by the truth themselves. (From the publisher)
Find on Amazon
ECHOES OF THE RUNES
AUTHOR: CHRISTINA COURTENAY
When Mia inherits her beloved grandmother's summer cottage, Birch Thorpe, in Sweden, she faces a dilemma. Her fiance Charles urges her to sell and buy a swanky London home, but Mia cannot let it go easily. The request to carry out an archaeological dig for more Viking artefacts like the gold ring Mia's grandmother also left her, offers her a reprieve from a decision - and from Charles.
Whilst Mia becomes absorbed in the dig's discoveries, she finds herself drawn to archaeologist Haakon Berger. Like her, he can sense the past inhabitants whose lives are becoming more vivid every day.
Trying to resist the growing attraction between them, Mia and Haakon begin to piece together the story of a Welsh noblewoman, Ceri, and the mysterious Viking, known as the 'White Hawk', who stole her away from her people in 869 AD. (From the publisher)
Find on Amazon
THE FAMILIARS
AUTHOR: STACEY HALLS
In 1612 Lancaster, England, the hunt for witches has reached a fever pitch. But in a time of suspicion and accusation, to be a woman may be the greatest risk of all. Fleetwood Shuttleworth, the mistress of Pendle Hill's Gawthorpe Hall, is with child. Anxious to produce an heir, she is distraught to find a letter from her physician that warns her husband she will not survive this pregnancy.
Devastated, Fleetwood wanders the estate grounds, where she catches a young woman poaching. Alice Gray claims she is a local midwife and promises to help Fleetwood deliver a healthy baby. But a witch-obsessed frenzy sweeps the countryside. Even woodland creatures or "familiars" are thought to be dark companions of the unholy. And Alice soon stands accused of witchcraft.
Time is running out. The witch trials are about to begin. With both their lives at stake, Fleetwood must prove Alice's innocence. Only they know the truth. (From the publisher)
Find on Amazon